A tale of two regions
---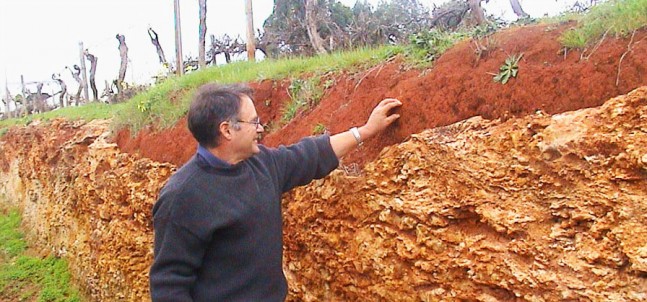 The best cabernet sauvignons from Australia and France are arguably of equal quality, but one has ended up on supermarket shelves, the other in the best of wine cellars.
The wine regions of Coonawarra in South Australia and Bordeaux, France have a great deal in common, sharing similar climate and geology (terroir), varietal composition, and even comparable quality during Coonawarra's epoch. Yet, today, they are poles apart, with Bordeaux surging ahead in prosperity, superiority and finesse in its wines.
Both regions have built their reputations on the cabernet sauvignon grape, the red variety unparalleled in its concentration of phenolics and dry extract, capable of extraordinary longevity in bottle and consequently endowing an unmatched aura of greatness.
Merlot and cabernet franc varieties also play a vital role in the traditional Bordeaux blend, although to lesser degree in the Medoc (the geographical term used for the whole of the Bordeaux wine region on the left bank of the Garonne River and Gironde Estuary), yet dominate the right bank's clay-rich soils of St-Emilion and Pomerol.
Both regions have an oceanic climate, definitively an advantageous westerly maritime influence characterized by relatively mild winters and cool summers. This west coast climatic prevails in a narrow band at the middle latitudes of the world's continents in both hemispheres, however in a viticultural sense affecting only Bordeaux, Oregon, coastal northern California, south- eastern Australia and New Zealand.
Although Coonawarra is prone to spring frosts and the occasional searing hot summer, Bordeaux also has it fair share of temperature extremes, particularly in the past decade with some extraordinarily hot and dry vintages owing to global warming. While the variables are infinite where weather is concerned, conclusive comparative statistical analysis shows that Coonawarra has a climate very close to that of Bordeaux with almost identical hours of sunshine.
Coonawarra and Bordeaux have similar geological foundations, with substrata plateaus of limestone that were once the ocean floor in prehistoric times. Formed over millions of years by bio-erosion of marine organisms (fossilized sea creatures and shells exposed by retreating oceans), limestone is largely calcium carbonate (mineral calcite) high in alkaline, which provides the requisite pH (measure of acidity) crucial in producing world-class wines.
Similarly, they are both surrounded by swampland, Coonawarra lying on a shallow limestone ridge above wetland either side, and the Medoc a desolate, flood-prone area up until the mid 17th century.
In this regard, both regions owe a great deal to man's ingenuity and would otherwise be useless bogs if it were not for artificial drainage channels. In Coonawarra, it was Scottish and English immigrants in the 1830s who dug a series off deep channels running to the coast. Over an astonishing 1,450 kilometers, they turned swamps in to valuable sheep grazing land and fruit colonies.
The Bordelaise brought in Dutch engineers, masters of drainage, who dug substantial channels at right angles to the estuary, all the way from the city of Bordeaux to the tip of the Gironde. In the process, they released great banks of gravel washed down from the Massif Central and Pyrenees during the Ice Age.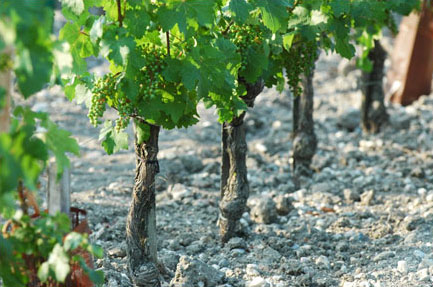 Consequently, both regions are comparatively flat, with the slightest rise or undulation translating to the premium site. All great Medoc wine is grown on gravel rises, with the sweet spot an indiscernible border between the communes of St-Julien and Pauillac and celebrated chateau's such as Leoville-Las Cases, Leoville-Poyferre, Pichon-Longueville, Pichon-Lalande and the pre-eminent Latour. The southernmost classified growth of the Medoc, Chateau La Lagune, with its textbook north-south orientation on a gravel rise, is often cited as one of the most perfect examples of Bordeaux terroir (see picture).
The sweet spot of Coonawarra runs right through Highbank vineyard situated on a one-meter rise, barely discernible unless you climb into the drainage channel where you will spy an extra layer of precious terra rossa (red earth) soil clearly visible (see picture).
Which brings me to the all-important aspect of soil. Both Coonawarra and Bordeaux have unique soils. Notwithstanding the significance of the ancient, mineral-rich glacial tailings of Bordeaux, I find it ironic that these artificially constructed gravel banks are now the most prized locations for the world's most sought after wines.
On first sight, the rich terracotta-red soils of Coonawarra look distinctly volcanic but are in fact weathered limestone reddened by mineral and organic matter. This acclaimed cigar-shaped terra rossa strip extends for 15km north from the tiny township of Penola, varying in width from 200 meters to 1.5km. The other main soil type of the Coonawarra, ground water rendzina (black or grey clay soils), is unquestionably inferior, mainly due to its poor drainage capabilities. Subsequently, vines tend to be over vigorous and overcrop. It would be convenient if these two soils existed in isolation but there are fingers and small round pools of black soil among the red, and vice versa, complicating matters in classifying or ranking vineyards on the merits of their soil.
The benefits of good soil drainage in both regions are qualitatively conclusive. Just as the gravel rises in Bordeaux translate to Classified Growths, the difference between red and black soils is no less important in Coonawarra. Bordeaux, however, has the distinct advantage of the 1855 Classification and the Appellation Controlee system to interpret all this to the world wine stage, whereas Coonawarra vignerons cannot even agree on the issue of regional boundaries, never mind classification.
Furthermore, I would doubt international consumers or the average Australian wine drinker comprehended how exceptional the Coonawarra wines were during the meridian years from 1930 to 1965. During that time, Coonawarra and cabernet sauvignon were fast-becoming analogous, challenging the seemingly untouchable reputation and monopoly of Bordeaux which, apart from the stellar years 1959, 1945 and 1961, was experiencing its worst period of stagnation and poor vintages. This was decades before California emerged as the great challenger, retarded by 13 years of prohibition.
The most enlightening period of my sommelier career was being exposed to immortal Coonawarra wines such as Woodley's Treasure Chest Series 1941, 43, 45, 53 and 56 (I even kept the empty bottles as the labels were so stunning), Redmans Claret from any vintage you care to mention, the legendary 1963 Mildara Peppermint Paddy, resplendent in regional minty characters, the prodigious Wynns 1955 Michael Hermitage and the extraordinary run of Wynns cabernet sauvignon vintages 1955, 58, 59, 60 and 62.
My unqualified favorite was the 1962 Wynns (which happens to be my birth year) and I served this incredibly Bordeaux-like wine to every willing international guest. One of the most memorable occasions was attending to a table of Boston wine merchants. The connoisseurs skeptically agreed to include the 1962 Wynns among a blind tasting line-up of 1959 Chateau Haut- Brion, 1961 Chateau Palmer, 1962 Chateau Latour and 1959 Chateau Lafite Rothschild. Much to their amazement, the Wynns emerged equal favorite with the Chateau Haut-Brion and they insisted on taking a batch of the Australian drop with them back to the United States.
So, here we have the "old world" and "new world" of wine seemingly on equal footing. Yet Coonawarra is ostracized by the fine wine intelligentsia, globally banished to supermarket shelves and quaffing status while Bordeaux graces the finest cellars and tables around the world.
Read more on the next instalment. Where did Coonawarra go wrong?
For those interested in further reading on this subject matter, I highly recommend Terroir – The Role of Geology, Climate, and Culture in the Making of French Wines (by James E Wilson; University of California Press) and Coonawarra – The History, The Vigneron, & The Wines (by James Halliday; Yenisey). The latter is by far the most comprehensive account of Coonawarra to date, although I am unsure if it is still in print.
---