Gut Instinct – Singapore, June 5th
---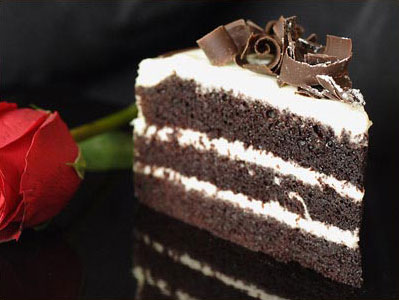 We discovered a cake shop the other day with a difference, moreover an inspiring example of trusting one's gut instinct and being brave enough to make a courageous career change after 20 years in a totally unrelated industry.
Classic Cakes opened its doors in 2005 when Charles Quek finally succumbed to his passion for baking, leaving behind 20 years in the insurance industry and fore filling a nagging obsession to turn his hobby in to a business.
As it turns out, our (secretly) talented pastry chef is armed with a diploma from Shatec, Singapore's hospitality industry and tourism institute, www.shatec.sg and has been quietly baking away for friends for the last 20 years.
He now has a small bakery store in the Clementi Arcade, 41 Sunset Way, which for Singaporean's will seem like the heartlands, but actually its relatively handy to Bukit Timah, Holland, etc, and all that prosperous district 9 & 10 neighbourhood.
The strategic distinction here, and something for all to grasp (anywhere in the world), is this owner-operated, artisan baker is a rare breed amongst a plethora of pedestrian mechanized peddlers of processed starches, artificial flavours and chemical concoctions.
Basically, what you can expect here is no fuss, 'classic cakes' made with hard labour and the very best ingredients, that have real flavour and a wholesome taste that will have you reminiscing of grandma's home cooking.
Actually, one of Chef Quek's masterpieces is in fact a savoury cake, or more specifically Yam Cake, a Dim Sum staple in Chinese restaurants, although tends to be pan-fried in restaurants, as opposed to home-style, which is steamed.
This too is one of those astonishingly simple, humble dishes yet is tasty to the point of being addictive; essentially made from yam (taro) and radish, rice flour, dried shrimp and Chinese sausage that is blended to a smooth cake and steamed for a prolonged period to become soft.
Served topped with fried shallots, spring onions and sliced chillies, and some of Chef Quek's homemade chilli sauce, I would suggest this is the best Yam Cake in Singapore, but I wouldn't want to step on K.F Seetoh's territory, so best to reference with Makansutra.
Chef Quek also makes a rather delicious Apple Mille Crêpes, with layers of crêpes filled with fresh apple slices infused with cinnamon, nutmeg and lemon juice that has a hint of Tarte Tatin about it, only a little gooier with pastry cream oozing from the layers.
I only managed to claim a small sliver of his 'Best Ever Chocolate Cake', as the daughter and wife hoovered this up. A very moist, butter-based chocolate cake, it has the right sort of density yet lightness to not be too heavy and one senses a high level of cocoa and good quality dark chocolate involved.
The moral of the story here is to go that extra distance to seek out and support local artisan bakers and pastry chefs. The supermarket chains don't need more dollars, but the individual entrepreneur does, moreover you will assuredly get superior quality and flavour from a mortal than a machine.
Classic Cakes, www.charlesclassiccakes.com
---