Richard the Great…Mate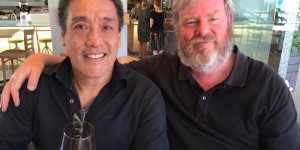 Had lunch today at Nikau Cafe Wellington with my good buddy Richard Genn, legendary chef ex-Aman resorts and one of the best palates I know on the planet – and a top man to boot! After a few decades at Aman resorts he's decided to take a break and hanging out in Bris-Vegas with his family. He's actually a kiwi, indeed a Wellington boy! Yes, another amazing (wandering) palate who grew up in the windy city in possibly the most culinary low era of New Zealand's history other than the first settlers coming to terms with there only being birds, fish and kumara in Aotearoa.
We had a marvelous lunch at Nikau Cafe, one of my local favourites and totally civilized place to be on a gloriously sunny Wellington day with the tables spreading alfresco. We grazed our way through the entrees and I had him wrap his lips around some Mount Edward Gruner Veltliner and Burn Cottage Pinot Noir…both got the nod.
Nice way to spend a summers day and have a good yarn with a mate. Hoorah!