Rarest Cheese in the World – A Monopole, Grand Cru, Single Cow Cheese!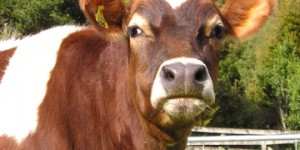 Picked up a big chunk of the rarest cheese on the planet for a party we throwing at our house tomorrow night, the Cwmglyn Farmhouse Cheese "Isobel", a Single-Cow Cheese! Pronounced coom-glin http://www.cwmglyn.co.nz this has to be the best cheese in all New Zealand and right up there in the world stage, having just won a Super Gold Award in the Fine Food World Festival in London–out of 2600 artisan cheeses, making it in to the Top 60 for the trophy tastings–bloody awesome effort! Check out the website www.finefoodworld.co.uk/world-cheese-awards.
Its wee bit of a drive to Eketahuna to Biddy's 'Cheese Door', the only place you can get it retail, although if you ask very nicely at her restaurant supplier, On Trays, http://www.ontrays.co.nz/ in Petone, you might score a piece. Otherwise, makes sure you leave room for cheese if you're dining at Logan-Brown…yes folks, all happening in Wellington, New Zealand, Middle of Middle Earth.
Full article in the wings…
Cheers
Curtis