Seresin Estate
---
The Benchmark of Marlborough and representative New Zealand Vineyard
Savouring my glass of 2007 Seresin Sauvignon Blanc, actually I am guzzling and already on to my third glass, so good is this wine; concentrated, complex, invigorating and comparable to any top Sancerre or Pouilly Fume. It is the quintessential New Zealand wine, an exemplar and nexus to the geography and fast-evolving wine culture of New Zealand.
It has also set my mind abuzz with some of the issues the New Zealand wine industry is facing. It's one those weeks where I am feeling anguish over my home country's performance, the same sort of pain and frustration that I felt when a blatant forward pass and subsequent win by the French rugby team eliminated the All Blacks in the 2007 world cup quarter finals.
It's not the rugby this time; thankfully we seem to be back in form. No, this time its wine or the future of New Zealand wine. There is possibly no other developing wine producing country in the world that has made all the right moves and has practically everything going for it than New Zealand.
There are so many iconographic aspects it is hard not to put a foot wrong. A picturesque mountainous country that yells out cool climate with a pristine environment and clean and green image; long, dry radiant days with an acute overnight diurnal temperature that snap freezes in flavour and natural acidity. And perhaps the most symbolic of all, a remote and tiny nation of resourceful and determined individuals emblematic of the largely artisan-sized wineries driving an industry striving on quality and environmental sustainability.
Like any thriving wine industry, New Zealand has its fair share of opportunists and commercial wineries that dilute the efforts of real winemakers, who rely totally on their own resources; that is they grow their own grapes and are dedicated to getting the best flavours and quality in equilibrium with viable yields.
The recent obsession of international journalists and wine industry banter to embellish the oversupply of Marlborough Sauvignon Blanc has a malicious undertone to it, frankly it smacks of sour grapes. In an ultra-competitive if not cut-throat mode of survival in these testing times, there are those revelling in the chance stick the boots in to the success of a region that is arguably producing the most iconic social lubricant and individualistic wine in the world. Is this not the perfect example of an expressive terroir existing in the new world?
Further evidence of professional jealousy tainting the commentary is the complete lack of mention of the preponderance of small wineries forging ahead with other grape varieties and the materialization of exciting new regions and sub-regions.
In every direction there is a commendable progression with the aromatic white varieties, riesling, pinot gris and gewürztraminer displaying enormous potential right across the country. The attributes of these varieties are enhanced by New Zealand's crisp and cool climate and the combination of inherently bright acidities and balancing natural residual sugars are proving to be the particularly well suited to Asian cuisines and subsequently
the bourgeoning Asia wine market.
Chardonnay is excelling and yet it is mindboggling how under appreciated by the international wine press. Perhaps what is needed is a chardonnay blind tasting like the cabernet taste off between New Zealand's Gimblett Gravels and Bordeaux held recently in London with thirty UK Masters of Wine, sommeliers, wine buyers and journalists participating. Quoting from Jonathon Ray's article in the Telegraph UK, comments by the world's leading wine commentator, Jancis Robinson MW."You've opened my eyes," declares Robinson, speaking for us all. "I think this is the closest to Bordeaux you can get."
Then there is syrah, which in the warmer regions of the country is carving out a niche all of its own. Stylistically typecast as Rhone yet it is already achieving its own identity and distinctive attributes, certainly enough so to attract the chagrin of the shiraz Caesar's across the Tasman.
Arguably the most suitable cool-climate red grape for New Zealand is pinot noir in terms of expressing the distinctive regional contrasts and unquestionably destined to surpass Marlborough sauvignon blanc on the world wine stage. There is already ample evidence to support this and yet ask any New Zealand pinot noir producer, even some of the pioneers that have over twenty vintages behind them, invariably they will humbly acknowledge there is so much to learn about their vineyards and the terroir.
On that note, New Zealand Pinot Noir Celebration is on again, February 1 to 4, 2010, four days of pinot noir enlightenment and gourmandizing; to use a colloquial adjective, an awesome experience, visit www.pinotnoir2010.co.nz
It is a very exciting time for the New Zealand wine industry and with the characteristic absence of arrogance and genuine altruistic cohesion between producers, you will hear from most winemakers a resounding, "The best is yet to come as our vines get older and we understand the complexities within our vineyards better."
Yes, there are most definitely challenges for New Zealand's rapid expansion amongst the world wine industry and a there will be some necessary corrections along the way. However the grape oversupply is largely in the traditional wine producing countries such as France, facing a wave of prohibitionist regress and many European countries deep in dilemma of over subsidization and overproduction of very pedestrian wine. I would thank you not place New Zealand amongst these burdened countries or even compare with neighbouring Australia, the sixth largest wine producer in the world, which have their own set of unique problems, some self-induced and some forces of nature.
In terms of global wine production New Zealand represents about 0.35%, in absolute volume this is miniscule, ranking around 40th on the world production table. New Zealand's emphasis is on quality not quantity and has already forged an enviable reputation moreover, uniquely positioned to achieve exponential growth in the premium wine market, at the same time championing sustainable practices and environmentally progressive agriculture.
And the rugby; well let me put it this way, if the All Blacks don't win the world cup in 2011, wine sales will be the least of New Zealand's worries. Owned by acclaimed cinematographer Michael Seresin, Seresin Estate is the archetype of a contemporary sustainable New Zealand vineyard encompassing a deep respect for the virgin country and embodying the passion and soul of a dedicated vigneron and agriculturist.
Seresin spent his formative years in Italy developing a deep passion for food and wine, to which when he returned to New Zealand on holiday was captivated by the Marlborough Sounds and subsequently purchased land in the Wairau Valley.
On my first visit to Seresin in the summer of 2007, I gained an indelible impression of integral harmony between people and the land; that sort of feeling one encounters in ancient Tuscany estates and Provençal farms where you have sense of a practically self-sufficient village with an abundance of wonderful, wholesome produce.
Indeed, Seresin Estate is more than a vineyard with three properties containing vineyards, olive groves, orchards and farmland with chickens, cattle and sheep, all run organically and embracing biodynamic principals – a higher level of organics comprising a metaphysical approach to achieve an ecological and sustainable farming system.
Essentially that means no herbicides, fungicides or any chemical spray whatsoever and no artificial fertilizers instead using natural composts, teas and biodynamic preparations along with companion planting of different crops that assist nutrient uptake, pest control and pollination. To quote Michael Seresin, "In essence its traditional agriculture, it's how it was done before the chemical-age came along, and wine's been around a lot longer than the chemicals have."
There are sceptics of the biodynamic principals or organics for that matter and yet the evidence is compelling in the wines Seresin produce. In a region that is dominated by larger dispassionate commercial concerns, Seresin wines are standout with unparalleled purity and complexity, markedly textural and refined, and age-worthy. Their 2007 Sauvignon Blanc is demonstrative of this, benefiting greatly from some bottle age (a rare statement in the commercial realms of Marlborough Sauvignon) not only drinking superbly now but showing all the signs of having a least another 5 years in it.
Of the twenty-six different parcels of fruit from different vineyard blocks including 5% semillon, that go in to Seresin Sauvignon Blanc, all are pressed and fermented separately with approximately 10 percent of the sauvignon fermented in older French barriques. Approximately forty percent of the final blend is fermented using wild yeast for added complexity and texture.
---
Seresin Sauvignon Blanc 2007
Exuberant bouquet of passion fruit, ripe figs and poached guava, sweeter scents of icing-sugar-coated Turkish delight, back-grounded more herbal notes – nettles, garden mint and lemongrass with nuances of fresh tarragon, lemon mints and lavender fields in blossom.
Explosive palate with mouth-watering tangerine, grapefruit and nectarine building in richness towards the mid-palate with a marked glycerol-seamless texture, yet checked by racy and persistent lime/lemon juiciness, all the while building in power and complexity with a smoky roasted pork nuance and a chalky, flinty tailing.
This is a brilliant wine that has the extra depth and a certain caressing textural softness that I liken to Pouilly Fume and clearly in a league of its own in the region.
Over the week I tried three other Seresin wines, the 2008 Pinot Gris, 2007 Leah Pinot Noir and 2006 Rachel Pinot Noir, intentionally wanting to review what is currently available in the Singapore market. However, it should not be construed that this piece has its limitations to Singapore; the fact is many of the export markets and particularly Asia, are invariably one or two vintages behind the winery releases or more established markets. The winner here is the consumer in the developing markets, benefiting from the extra bottle age. I will be commenting on the current releases ex-vineyard shortly, another part b as it were.
A point of interest or observation in trying these wines over a week, that is I returned to the wines several times with all of them open for 3 or 4 days, granted stored in my wine fridge; they all held up impressively right through and only showed signs of fading towards the fourth day. This is impressive and indicative of the substance of the wines and perhaps the methodology.
As I understand it, Seresin use no machines for harvesting, hand-picking and meticulously bench sorting grapes. Tractors are used on the property although run on bio-fuel; however they use horses for much of the vineyard work. There is a minimal handling approach to the winemaking, traditional and perhaps less anaerobic with predominantly wild yeast ferments and an overall natural vein, as you would expect of a biodynamic winery.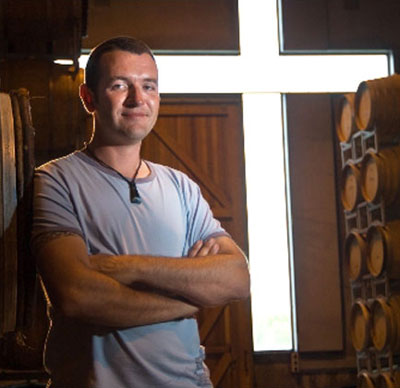 Clive Dougall, Seresin Winemaker
Michael Seresin has also surrounded himself with the very best people. On my last visit I was ushered in to the winery laboratory for a tasting of tank samples with heavy-weight palate and guru winemaker Olly Masters, their oenological consultant, alongside resident winemaker Clive Dougall.
The lads were very accommodating of my fatigued state, having endured the full-on four days of the New Zealand Pinot Noir Celebration, and a few too many palate cleansing ales (how good is that Emerson's Pilsner, organic too!). But tasting with these two adroit and savvy winemakers was an enlightening experience.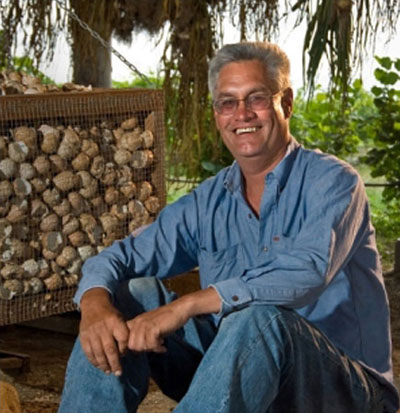 Colin Ross Seresin Estate Manager
Colin Ross, is one of those gregarious salt-of-the earth, earthly-academics that you could spend days with becoming more conscious of how the complex biodiversity is, moreover how much can be done naturally, in contrast to how much the world has lost the plot doing so many things unnaturally.
A word of advice, just agree with how good his biodynamic 500 preparation and chook shit and cow's dung composites are rather than sticking your head in as he would have you do. It certainly cleared the nebulous in my head that morning.
Much of my interaction with Seresin is with MJ Loza, general manager and charismatic brand ambassador. MJ's first impression of me was not great (thanks for the strong latte MJ) but we have come to know each other very well, and he is your consummate multi-faceted hospitality-wine-industry animate – a get things done type of person.
One of my personal favourites in Seresin portfolio is their Pinot Gris, made in style that one associates with Alsace region in France with a textural richness and complexity that is yet to be fully appreciated by many consumers.
I largely put this down to the false perception that dry wines are perceived to be more sophisticated than rich (texturally, sweeter) wines however despite its unctuousness Seresin Pinot Gris 2008 only has 4.8g/L residual sugar but balanced by impressive 7g/L of acidity. Anyone who enjoys rich chardonnay will assimilate to this wine and style without much difficulty.
I also often hear comments that such wines are difficult to match with foods, which I find rather curious as this style goes brilliantly with roasted poultry (see The Perfect Match Christmas Roast Turkey) and absolutely perfect with yellow curries and sweeter seafood's like scallops and lobster. Actually, I wheel out the Seresin Pinot Gris a lot as the consummate Indian cuisine wine; if that catches on, there will be a serious demand and supply problem.
The pinot gris grapes for this wine are whole bunch-pressed and then lightly settled, undergoing a wild yeast fermentation at a slow rate by low temperatures to enhance the primary fruit characters. At around 100Brix the wine was transferred to older French barriques to finish fermentation and then to sit on yeast lees for six months giving added complexity.
---
Seresin Pinot Gris 2008
Exotic and enticing bouquet of nougat and pink grapefruit, ripe mango, guava and tropical tones, sweet sherbet of candied fruits, almond icing, and caramelized pears with a smoky pork fat background. Unctuous palate entry, creamy, oily-textured, peachy, syrup-like yet quickly tightening up with a surge of citrus and white pepper, fresh ginger spiciness, as the palate seemingly dries up with zingy acidity, yet it regains its seductive richness on the finish with a hint of palm sugar sweetness and lingering marmalade-like piquancy.
I would suggest this is the benchmark in pinot gris style for New Zealand with a fine balancing act between the residual sugar and acidity, but more importantly such an expressive and complex wine that I would happily drink on its own, or with runny soft cheeses and dried fruits and nuts.
Seresin Leah Pinot Noir is the early drinking wine in the range, the fruit for this a blend of the three Seresin vineyards, Raupo Creek vineyard with its clay rich hillside, Tatou vineyard with alluvial shingles and the Home vineyard with a variety of Waimakariri type soils of alluvial origin. De-stemmed fruit was cooled for a pre-fermentation soaking period and fermented with wild yeast with the caps hand-plunged daily, then left to sit on skins for two weeks for post ferment maceration.
---
Seresin Leah Pinot Noir 2007
Sweet notes of dark cherry, blood plum and violets mesh with savoury nuances of dried tomato, balsamic with hints of lavender and spearmint, Indian spice box, cumin, coffee grinds and dark chocolate. Shows concentration and depth of the vintage in the bouquet, and keeps you lingering on the inhaling the wine.
Bright red fruits greet the palate, racy acidity and spicy length, noticeably tangy redcurrant-like intensity, apple and rhubarb pie, backed up by steely-nettle framework and yet wrapped in very plush mid palate of dark berry fruits, soft earthy black tea flavoured tannins, baked earth nuances, rusty and leathery notes bring out the savoury and poised core of this complex and dangerously drinkable pinot. At guess it has a good five years in it, if you can keep your hands off it.
Seresin Rachel Pinot Noir fruit comes from the clay rich hillside Raupo Creek vineyard, 60% from vines grown on the top of the steep hill block and 40% from the flats. Winemaking technique is similar to other cuvees however single vineyard characteristics are the emphasis here and exceptionally low yields, each vine thinned to carry one bunch per shoot.
---
Seresin Leah Pinot Noir 2006
Provocative bouquet of iron ore, flint and rust amongst sweet black cherries, sweeter pinot fruits, gamey, beef stock and salami-like nuances, dried tomato and old balsamic, building in perfume to a heady spiciness with black pepper, star anise, with a whiff of menthol and lavender youthfulness.
Tart and racy palate entry jumping with redcurrant and raspberry, becoming even more concentrated with tamarillo, sour plum, morello cherry, intensely tangy – in Chinese terms like dried plum (Seng Tee), steely cold acidity intensifies and accelerates the crunchiness of the fruit with fine yet firm tannins giving the wine substantial weight towards the back palate and the acidity carrying the tartness brilliantly with impressive length.
Very complex and loaded with tension, I have not seen a pinot noir with this level of concentration or form out of region; an earthy, savoury, brooding yet elegant wine that reminds me of a great Chianti Classico in its intensity and structure – the iron fist in velvet glove.
Is this the best pinot noir out of Marlborough to date? Perhaps it is in style, although MJ tells me "wait until you see the 07, ah actually we are sold out of that". And then there's the Seresin Sun and Moon Pinot Noir and the Tatou Pinot Noir…
For the latest news and goings-on from Seresin Estate, see their blog: seresinestate.blogspot.com
Also visit www.seresin.co.nz for more on New Zealand wine visit www.nzwine.com
---