Inglenook
---
Our Shanghai correspondent, Michael Knuppel, goes 'wandering' in the Napa Valley, California and visits the legendary Inglenook
 "Heritage is everything. If you have heritage and respect it, it is an endless source of inspiration." –Francis Ford Coppola
The road to Inglenook can be a little surprising. Head along the busy St. Helena Highway between St. Helena and Rutherford, past Gotte's Roadside diner, and hug the lone railway line. The Napa wine train steams past, ferrying tourists from Napa for the day to wine nirvana. Who knows where they disembark. We turn off the main road and cross the rail line, and coast on Inglenook road. Into history. It is hard to believe that the 21st century lies a mere one kilometre from here.
SOME HISTORY…
Inglenook's history is inextricably linked to that of the Napa itself.  In fact it has a heritage that is unparalleled and unique. Gustave Niebaum used his fur trading fortune way back in 1880 to purchase Inglenook and consequently turn it into California's first world-class winery. A true pioneer, this amazing man quickly established chateaux along Bordeaux lines, and as an avid learner chose French rootstock to arm against phylloxera. Within 2 years he has his first vintage. Within ten, it is being served at the White House and accumulating numerous awards worldwide.
Niebaum's achievements and innovations, his thirst for quality above all else, even at the expense of profit (such as the tamper proof wire mesh to prevent counterfeiting), cannot be done justice here. After his death, the estate proved a hard act to follow.
Despite the daunting challenge of continuing Niebaum's dream, family ownership in the form of the Daniel family continued through to the eventual sale in 1964, a period which is referred to as Inglenook's 'golden era' and the time of it's legendary 1941 vintage.
James Laube describes this as "among the great wines ever made", and Christie's rates it alongside "vinuous legends like the 1945 Mouton-Rothschild, 1982 Lafite Rothschild" and others as one of the most celebrated Cabernet based wines in the world.
In every way Niebaum would be immensely proud of how his vision has been embraced over the decades by the Coppola family, to the point where they have realized their passionate dream of not only restoring Inglenook to its former glory but also taking the prestige and history into the 21st century with wines of class, complexity and distinct terroir.
Bought after a decade in the wilderness at the hands of developers and new owners, Francis and Eleanor Coppola purchase 1700 acres of the famed property they had fallen in love with, just as Niebaum had done almost a century before.  It was to be quite a while before Inglenook was making legendary wines again, but the process was begun.
The Rubicon led the way especially after they purchased the front blocks and the Chateau, to add to the land, vineyards and estate already under ownership. Now, the sheer quality, reputation and standing of the Inglenook wines have grown world wide again. Laube in fact is quoted as saying "Inglenook is to Napa what Margaux is to Bordeaux." The Margaux connection doesn't finish there.
After 21 years at Margaux, Philippe Bascaules was enticed to take up the position as Estate Director. He told me "Great wine is a question of balance", and his drive here is to be true to the terroir, not create a mini-Margaux in Napa. His first vintage at the helm threw climatic challenges, but nothing he hasn't seen before. The 2012's, however, will be amazing. Tasted from barrel sample, they sing glorious spicy, brambly fruit with already an amazing balance of power and texture. We will have to wait.
I am determined not to turn this into a complete history lesson-part of the beauty of making the trip to Inglenook is to experience the outstanding personalized tour of the cellars, property and naturally, the tasting. Our tour was conducted by Harold, whose knowledge and Southern story telling gift is simply brilliant. He at once makes you feel comfortable and privileged, and like all at Inglenook there is a fierce pride and sense of ownership.  If you are visiting Napa, and want a genuine 'experience' as opposed to a tasting, book ahead.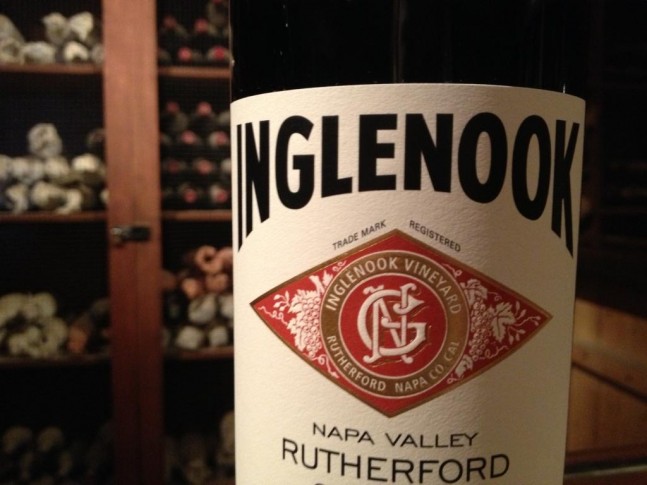 THE TASTING
Inglenook's legendary iconic wine is Rubicon, a cabernet of the highest quality. The 2009 is the current vintage, but you can buy back vintages and this is always one of the great advantages of visiting cellars.
As I mentioned, I was privileged to take a look at the 2012 barrel samples, guided through by winemaker Phillipe. His pedigree is remarkable: twenty years as senior winemaker at Chateau Margaux says everything about the direction, and the investment in only the best, that Inglenook makes.
The Rubicon 2012 barrel sample was ripe, rich and complex already, with a depth and concentration that suggests long term cellaring prospects, and some big points from WS.  The 2012 Cask Cabernet too, another wine with a long pedigree and iconic status, was brilliant.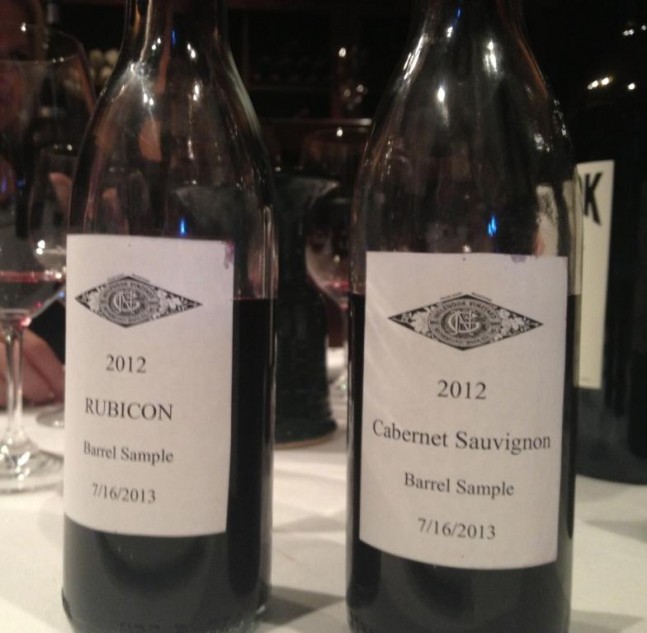 Actually one of our most enjoyable wines to share was the 2010 Zinfandel, gloriously labeled Edizione Pennino Zinfandel. This gorgeously expressive Zin showed nothing of the cooked berry and jammy notes some Zins carry. This was a beautiful expression of wild forest berries, white pepper and spice, wrapped up smoothly in lovely oak. Opened for 20 minutes, it is an expressive, generous and broad wine that reflects the vineyard.
In fact, this was the perfect wine to toast the sunset in Calistoga, tucked away as we were just with the Webber grilling away, and stars beginning to appear. We knew we were in Napa. The historic Inglenook is an absolute must if you want to grasp the history of the Napa, a magnificent vineyard and property, and of course some of the regions most dynamic and beautifully crafted wines.
---