The Perfect Christmas Roast Turkey
---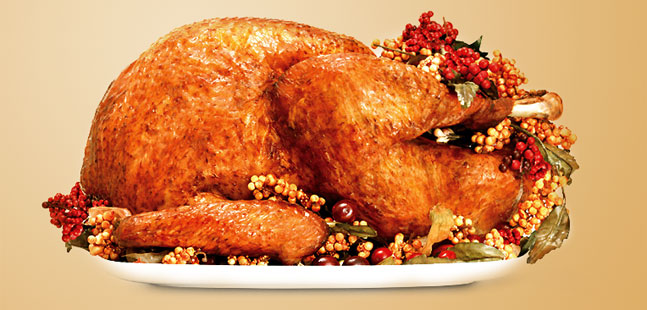 The notion of cooking a roast turkey can be daunting to many home cooks but really folks, it's just bigger than a chicken… and the perfect wine match?
With Christmas not far away it's time to make the appropriate preparations for the most important lunch of the year. For those who enjoy cooking and entertaining at home, Christmas lunch is a relatively straightforward and traditional menu yet a very rewarding experience.
Then there are those who are totally intimidated with the very thought of cooking a turkey and everyone seems to have a horror story about their first attempt. Invariably it is due to the bird not being defrosted sufficiently, turning out golden brown on the outside and still raw on the inside!
On the flip side, there is a lot of turkey that gets over-cooked and subsequently turns out very dry and chewy. On the bright side, Christmas guests are very forgiving with any imperfections lost in the joviality of the day and singing your praises forever for the effort.
For the intimidated; folk's, a turkey is just a bigger bird than a chicken and it's all about planning and method. I am going to mention it several times, just to drive it home; you need to take the bird out of the freezer 3 days before and let it thaw slowly in the fridge, making sure to remove all wrappings and sitting on a wad of kitchen paper.
That is of course assuming your turkey is frozen as it will no doubt be if you live in certain parts of Asia. Actually, frozen turkey is commonplace the world over however nothing beats a freshly chilled, free range, organic turkey, should you be so lucky have access to such. When we lived in Hong Kong it was no problem sourcing a freshly chilled free range turkey from France however such a bird is a rare thing in Singapore. Ours specimen is indeed organic and free range however it is as frozen as Antarctica and sailed all the way from the USA.
Equally imperative, you must bring the bird up to room temperature before cooking, which will take a good 4 to 5 hours, depending on the size of the bird. This generally means leaving it out of the fridge overnight, to which I would leave the air-conditioning on in the kitchen if you are in the tropics, unless you are happy to get up at three in the morning to take it out of the fridge!
All this of course can be used to embellish you cooking talents and gargantuan efforts on the day and if I could suggest chaps, get in the kitchen as this is a good chance to earn some serious browning points.
Personally I feel stuffing the turkey is essential, although there is a theory that this makes it more difficult to cook through. In ten years of stuffing turkeys I have never encountered any such problem. More importantly, people have always commented on "how damn good" the stuffing is.
I use sourdough bread (buzzed in the food processor), chopped shallot onions (sautéed soft in butter), truffle paste, chanterelle mushrooms, garlic, fresh sage and thyme and seasoning, all bound with egg. You can use fresh truffles if you like; although not an inexpensive exercise however I find black or white truffle pastes, sometimes combined with mushroom as a type of pâté, does a wonderful job.
If you cannot source fresh chenterelles, dried ones are usually readily available, or you can use dried morels or assorted dried wild-mushrooms. Dried mushrooms need to be soaked in warm water for 15 minutes before adding to the stuffing mix.
---
Ingredients
4kg Turkey (up to 8 people)
6kg Turkey (up to 12 people)
Butter or Olive Oil
Water
Salt and Pepper
Garlic (half a head, that is several cloves)
Fresh sage (bunch)
Fresh thyme (half dozen sprigs)
Lemons (1 large, chopped in half)
Truffle oil (for sauce)
Ingredients for Stuffing
Bread for stuffing (preferably sour dough)
Two large shallot onions
Salt and Pepper
Truffle paste (small jar)
Fresh Chenterelle mushrooms, or dried morels / wild mushrooms
Fresh sage (use from ingredients for turkey)
Garlic (chopped fine)
2 eggs (free range – from Huber's)
Equipment
Large metal oven roasting dish
Metal rack for placing the turkey on
Separate oven and meat temperature gauges
Baking foil / Aluminium foil – preferably wide commercial size
Kitchen paper towel
Large mixing bowl for stuffing
Large while platter for presenting the bird at the table
---
Preparation
Plan and start well ahead! Cooking time for a 4kgs bird will be over 3 half hours including resting of the meat.
You might want to consider half cooking your roast vegetables the night before, then reheating and crisping in a hot oven whilst the turkey is resting.
Pre-heat oven to 200 degrees Celsius.
---
Making the stuffing
Either break up the sourdough bread to tiny pieces by hand or buzz in the food processor.
Soak dried mushrooms and drain, or wash and drain the fresh chanterelles, chop coarsely.
Chop shallots finely and sauté very gently in butter, do not brown.
Peel garlic, leave some whole and crush with the back of knife for placing in Turkey cavity. Chop remaining finely for stuffing.
Rinse sage and pat dry. Chop half the sage finely retaining the rest whole for placing inside turkey cavity.
Combine all the ingredients in a bowl, with several grinds from the pepper mill and two good pinches of Maldon sea salt. Bind with egg and ensuring truffle paste evenly distributed – best way is use your hands.
---
Preparing the bird – make sure it's properly thawed and at room temperature
Wipe turkey inside and out with kitchen paper, removing giblets and neck (these should be placed in the bottom of roasting dish to add flavour to your sauce), season with pepper and salt well, rubbing inside and out. Place bird in roasting dish.
Rub the bird with cut lemon, again inside and out. Place whole garlic, thyme and sage sprigs in cavity.
Stuff the bird but loosely, as the stuffing will swell. Use the crust from the sourdough bread to seal cavity, or any bread crust will do. You can use baking twin to tie legs together to help close the cavity.
Rub the bird liberally with butter (you can use olive oil, although butter achieves a more flavoursome result), messy job but hands necessary. At the same time butter a double-sheet of foil, again very generous with the butter (on one side) and make sure the foil is large enough cover whole roasting dish.
Pour a cup or two of water in roasting dish and then turn the bird upside down, breast down, making sure you are using a metal rack to lift of the bottom of the roasting dish so heat can circulate. Cover the bird and dish with the cooking foil, butter side down!
---
Cooking the turkey and tips
General cooking time is 20 minutes per 500 g, approximately 2 hours 40 minutes for a 4 kgs bird.
For the first 40 minutes cook at 200 degrees Celsius which seals in the flavours, then lower temperature to 160 degrees for remainder of cooking time.
Here's where you can be a little adventurous, time permitting. I much prefer to slow roast practically everything, and in my convection/fan oven this means turning the heat way down to less than 50 degrees on the dial, which translates to an oven temperature ideally around 90 to 100 degrees Celsius (remember, rely on a separate oven temperature gauge than the dial). I don't really calculate the extra cooking time rather relying on my meat temperature gauge inserted in the thickest part of the breast and leg. Poultry is considered cooked at around 80 or 90 degrees Celsius, thus the logic of slow cooking and not cooking at higher temperature to avoid drying out the meat.
The turkey needs to be basted every 20 minutes, using the juices and fat flowing from the bird as it cooks. I also maintain a small amount of water in the bottom of the roasting dish to keep the moisture level up.
Half way through cooking, turn the bird over leaving breast side up for the remainder. The reason for placing the bird breast down initially is this allows the juices from the legs to run in to the breast meat, which tends to dry out easier.
Remove the foil for the last 30 minutes of cooking so the bird browns nicely, at the same time not adding any more water to the pan so it reduces to a thicker stock, but watch that it doesn't dry out completely and burn.
Remove bird from the roasting dish and place on a large white platter to rest, covering loosely with cooking foil. 30 minutes is feasibly sufficient resting time however I like to give my turkey a good hour of resting. Also be sure to retain juices that will release from the resting for your sauce.
Deglaze the roasting pan over stove element with a glass of Seresin Pinot Gris (see wine pairing), adding a cup of organic chicken stock and a teaspoon of truffle oil, along with juices from resting. Reduce until sufficiently thickened or use a roux to thicken the sauce more to your own texture and taste.
Meanwhile, place your par-cooked vegetables in the oven to finish roasting a crisp. My wife actually achieves a better result crisping par-boiled potatoes in a frying pan. Equally, a friend of mine has perfected his technique, preferring to half boil the potatoes first, then drain and rough up by shaking the pot vigorously. This sort of fluffs them up and when roasted in the oven at high heat become wonderfully crisp on the outside.
---
Summary
Well your probably exhausted reading through this by now and have picked up the phone to order your pre-roasted turkey from your local providore, which is certainly a convenient option. However, I love the ooooh's and aaaah's and applause when I appear out of the kitchen with an impressive, golden brown turkey and plonk it in the middle of the table. Which reminds me, always carve at the table, otherwise you will lose the spectacle altogether.
We always have a late lunch for this sort of generous meal which will easily run in to dinner, particularly if you plan to serve Christmas pudding. I like to buy a whole cooked ham (from Huber's of course) for the kids (and some impatient adults) to eat earlier or later when the munchies return but you can't be bothered cooking.
You should have a starter or stand up nibbles but nothing too heavy. Invariably we serve gravalax of Tasmanian ocean trout or salmon (cured as opposed to smoked) which is less rich than smoked. Using your sourdough bread, toast thin slices and have a bowl of very finely chopped shallots and crème fraiche to add as a topping.
If you are serving up Christmas pudding then make sure you have some reasonably mature vintage port around as it needs a powerful and spicy wine with plenty of butterscotch and cleansing acidity. WJ Graham's is my personal favourite; see if you lay your hands on the 1980, a much underrated vintage and drinking superbly.
And the wine… with the turkey
Conventional wisdom would point to chardonnay as a logical choice, ideally with some bottle age. Roast turkey certainly calls for a white wine with texture and richness or even opulence, which is why this year, my perfect match is Seresin Pinot Gris 2008, from Marlborough, New Zealand. One of my personal favourites in Seresin portfolio their pinot gris is made in style that one associates with the Alsace region in France with a textural richness and complexity yet has very little oak influence.
It is a style that is yet to be fully appreciated by many consumers to which I largely put down to the false perception that dry wines are perceived to be more sophisticated than rich (texturally, sweeter) wines. However despite its unctuousness Seresin Pinot Gris 2008 only has 4.8g/L residual sugar but balanced by impressive 7g/L of acidity and anyone who enjoys full-bodied chardonnay will assimilate to this wine and style without any difficulty.

I often hear comments that such wines are difficult to match with foods, which I find rather curious as this style goes brilliantly with roasted poultry and obviously why I choose as "The Perfect Match" with Christmas roast turkey.
The biodynamic-grown pinot gris grapes for this wine are whole bunch-pressed and then lightly settled, undergoing a wild yeast fermentation at a slow rate by low temperatures to enhance the primary fruit characters. At around 100Brix the wine was transferred to older French barriques to finish fermentation and then to sit on yeast lees for six months giving added complexity.
My tasting note for Seresin Pinot Gris 2008
Exotic and enticing bouquet of nougat and pink grapefruit, ripe mango, guava and tropical tones, sweet sherbet of candied fruits, almond icing, and caramelized pears with a smoky pork fat background.
Unctuous palate entry, creamy, oily-textured, peachy, syrup-like yet quickly tightening up with a surge of citrus and white pepper, fresh ginger spiciness, as the palate seemingly dries up with zingy acidity, yet it regains its seductive richness on the finish with a hint of palm sugar sweetness and lingering marmalade-like piquancy.
I would suggest this is the benchmark in pinot gris style for New Zealand with a fine balancing act between the residual sugar and acidity, but more importantly such an expressive and complex wine that I would happily drink on its own, or with runny soft cheeses and dried fruits and nuts.
Find out more on Seresin Estate – The Benchmark of Marlborough and representative New Zealand Vineyard.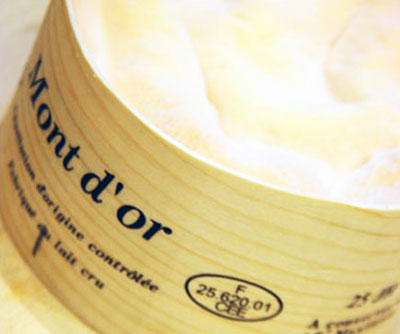 If you're having cheese before pudding, I highly recommend Vacherin Mont d'Or – a exquisite washed-rind cow's milk cheese from the Jura Mountains, France, and only made in the winter months or perfectly timed for Xmas as it were. It is presented in a spruce-wood box that keeps the cheese from oozing all over the place. Indeed, you need to use a spoon to get it safely on to your toasted country bread. Make sure it is brought up to room temperature in advance, and the Seresin Pinot Gris will go very nicely with this as well.
If you are in the mood for a red at any stage of the lunch, an elegant, savoury pinot noir is best, picking upon the roasting flavours and gaminess. We usually have a collection of pinot noir's to lubricate the conversation along; this year some of the individual vineyard wines from 2006 Calera range from legendary winemaker Josh Jensen whose San Benito County, California – also some of Sam Neill's Central Otago vineyard Two Paddock's, a personal favourite.
Then it's on the Grahams vintage port!
Cheers & Merry Christmas!
Curtis Marsh – The Wandering Palate
---