New Zealand Pinot Noir is World Beater
---
Martinborough Pinot Noir scoops top prize from 10,983 entries in world's biggest wine show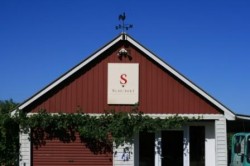 A small winery from Wairarapa which only planted its 12 hectares of vines in 1999 has triumphed over Pinot Noirs from 19 other countries including France, Italy, Australia, the USA, Chile and Germany to win the International Pinot Noir Trophy at the world's biggest and most prestigious wine show, The Decanter World Wine Awards. London's Royal Opera House was the venue for last night's unveiling of the 28 ultimate world beating wines from the 10,983 entries in the 2010 Decanter World Wine Awards.

Martinborough's Schubert Wines Block B Pinot Noir 2008 became one of just 0.25% of wines in the competition to win an International Trophy, surviving four rounds of judging to join an elite band of International Trophy winners in the world's toughest wine competition. Schubert's proprietors & winemakers Kai Schubert & Marion Deimling, moved from Germany to New Zealand via the Pacific Northwest and Australia in their quest for perfect Pinot terrior, they say "It is a great honour receiving this huge accolade. There were Pinot Noirs from 19 other countries which makes this International Trophy not only a fantastic success for us at Schubert Wines, but also for the Wairarapa region and the whole of New Zealand".
Decanter's expert judges described the winning wine as: 'Forceful, with vibrant, succulent fruits and sweet strawberry and loganberry flavour. Fine concentration and a fresh splash of acidity on the palate. Very long and sleek.'
Schubert was not the only NZ winner, Nelson's Seifried Sweet Agnes Riesling 2009 completed a stunning hat-trick of wins having won a Regional Trophy or International Trophy every year since 2007.  Decanter's judges described Seifried's second consecutive International Trophy winning vintage as: 'Very honeyed and waxy on the nose with loads of floral character. Aromatic, luscious, juicy and intense with a racy but balanced acidity with excellent length.'
The International Trophies were the highlight of an excellent year for New Zealand Wines in the Decanter World Wine Awards with New Zealand ranking seventh in the medal rankings with a total of 341 medals including 15 gold and 88 silver medals.
Press Enquiries and further information:
Catherine Woods, Australian Regional Marketing Manager, 0400 836 138, catherine.woods@mac.com
or contact Kayene Moore, General Manager: Wines From Martinborough.
Press Release
---