Bubbly Beauties
---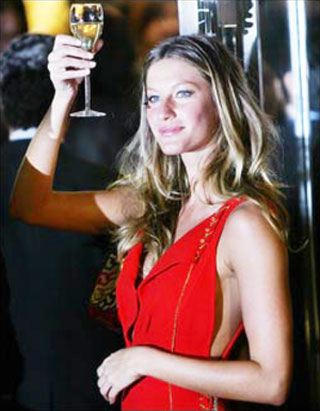 It's time to put some fizz into the holidays – without flattening your bank account.
Why do bubbles captivate us so much?
Watching my daughter gleefully chasing soapy bubbles, I wonder if this is where the fascination begins. The tiny bubbles scrambling into a fine bead in a Champagne flute share the allure and sparkle of diamonds.
Champagne is at the center of fashion yet somehow impervious to it. Majestically unaffected by imitations, Champagne seems to capture the passion and romance of the French, embodying all the luxurious things in life.
It is unquestionably the beverage of choice to celebrate or to commiserate. To quote Winston Churchill: "In victory, we deserve it. In defeat, we need it."
Even in countries such as Australia, acknowledged for producing quality sparkling wine on a par with commercial non-vintage Champagne, there is still the missing "X factor." As Australian wine expert and writer Len Evans puts it: "Nobody who is anybody drinks Australian sparkling."
Today, the world is awash with wine and at an industry level there is a global wine war on. France's domination has never been more under threat, and not just from neighboring competitors, Italy, Germany, Austria and Spain. Producers from Australia, New Zealand, the United States, Chile and Argentina are gaining a share in the strategic British and US markets, mainly through their ability to simplify wine with styles that are more accessible and brand- driven in contrast to French wines that are labeled generically, emphasizing the intricacies of their geographical identity.
However, champagne growers are not suffering the woes that many of France's vignerons, or small, family- owned vineyards, are experiencing. In fact, they have never had it better. This is hardly surprising given the entrenched history and allure of champagne. The leading houses have had more than 200 years to perfect their craft and build internationally famous brands. Effectively, the Champenois enjoy the best of both the 'New' and 'Old' Worlds.
There may be a muddle in some minds over what constitutes a really good Bordeaux but almost every wine consumer believes that Dom Perignon is fine bubbly.
That said there has been a quiet revolution building over many decades in the form of "grower Champagnes" or Champagne de Vigneron. These vineyards are on average just 1.5 hectares, with their holdings sometimes fragmented among larger vineyard slopes.
There are around 19,000 such growers who constitute 85 percent of all Champagne vineyards. They can sell their grapes to Champagne houses or co- operatives or keep the grapes to make their own wine, as around 5,000 of them do.
Champagne de Vigneron wines express the individuality of their terroir – specifically the soil and other factors that combine to give grapes their character. The special quality comes through even more when produced from a single vintage, thus capturing the nuances of that year.
This distinction differs greatly from the large brands with their philosophy of blending many different vineyards and vintages to maintain a certain style.
Vintage conditions can also be challenging in the cold northern climate of Champagne. However, the growers have the luxury of selling off any sub- standard grapes they have to the big houses, who eagerly oblige to keep up with demand.
So one does not have to wait for the big houses to be upbeat about a great vintage when there are countless excellent Champagne de Vigneron to be had.
If value for money is important to you – I ask because for some people, Champagne seems to taste better if it is very expensive – you will find Champagne de Vigneron far less expensive than the big brands.
They simply do not have the huge marketing and advertising budgets that can add 30 percent to 50 percent to the cost of champagne.
If you are reassured in the choice of your Champagne through the advertising images of sexy nymphs and hunky men sipping from pink tulip glasses, just remember it's built into the price.
Moreover, if you knew the promotional rigmarole and dollars spent on international hotels and restaurants by the big brands to have their champagne poured by the glass, you may be reticent in your choice of aperitif.
Le Comite Interprofessionnel du Vin de Champagne, the official trade association, describes Champagne de Vigneron as "aimed at a certain clientele and concentrated on the domestic market, representing more than 20 percent of Champagne shipments."
I am not sure how current these figures are but judging by the surge in awareness and popularity of Champagne de Vigneron in Britain and the US, the percentage is increasing rapidly. And why should the French keep it to themselves?
Perhaps in brand-conscious Hong Kong, it may take longer to catch on. However, one of the very best champagne de vigneron, Vve Fourny & Fils, is available here.
The Fourny family owns 5.5 hectares of Premier Cru vineyards on the Vertus terroirs, in the south of the Cote des Blancs. It is higher and cooler than nearby Le Mesnil-sur-Oger, home of Krug Clos-du-Mesnil, which is why Vve Fourny wines show a hint of extra acid. The vineyard produces steely, dry Chardonnay-dominant champagnes from low-yielding vines averaging 35 years old.
I sampled its vintage 1999 Blanc des Blancs Premier Cru, made from 100 percent Chardonnay – old vines planted in a sweet spot of pure limestone, organically grown, and hand- harvested. Initially showing the scent of freshly cut green apple and lemon, it opened up to reveal complex aromas – sour dough bread, roasted nuts, and intense chalky minerality.
Powerful and racy, with fine bubbles prickling through the mouth, it displays its underlying elegance with a creamy mid-palate richness, sustained by its acidity and dry finish, tangy with lingering wet stone minerals and subtle nuttiness.
This is a serious, invigorating Champagne that costs fractionally more than your average non-vintage. At HK$450, it is outstanding value. I have not tried the non-vintage range, however, based on the vineyard's very high standards, this could be the most affordable in town at HK$290. It's available through Belle Brise, www.bellebrise.com, Tel: 9195 8797.
If you would like to know more about Champagnes des Vignerons, visit www.champagnesdevignerons.com
---