Contemporary Dining at Tate Modern – London, June 7th
---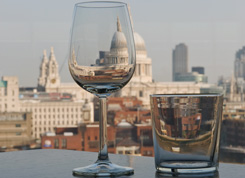 One normally hesitates when recommending to 'dine' in a gallery or museum beyond basic sustenance, but Tate Modern's restaurant on level 7 is an exception, not only offering modern (as you would expect) high quality, seasonal-focused food but also possibly one of the best dining views in London.
To gain the maximum appreciation of this brilliant art deco style building and its surrounds, walk along the Thames River and cross over the Millennium Bridge. It's an incredible space, inside and out; almost as surreal as the paintings housed in it with its soaring 325ft chimney, equally towering interior ceilings and the massive iron beams of what was once the Bankside Power Station.
What strikes you amongst the cavernous and minimalist spaces is the tasteful rawness of the interior materials employed with recycled wooden packing crates used as floorboards and naturally aged exposed brick cladding in juxtaposition with white plastered walls. The restaurant interior is the same only the wood ebony-stained and the floor to ceiling glass on both sides of the room adding to the openness and welcome brightness (this is London) of the space.
There's a crisp smartness about the place with modern wooden chairs, starched white table clothes and an air of assurance from the confident and sharp service team. Whilst not intended to be formal dining space there is definitely an air of sophistication in the ambience and clientele here, a mixture of intellectuals, London suits and well-heeled tourists.
A concise menu with a fittingly light repertoire of contemporary English cuisine is underpinned with an equally vibrant and eclectic wine list designed by Sommelier Hamish Anderson. There is a multitude of wines by the glass, which is how we travelled, enjoying a number of wines; Soave from Slteli, gruner veltliner from Erich Machhedl, Wachau, a viognier from Domaine de Bahourat, Provence, and grenache/cinsault Provence rose from Domaine Pasquiers, all delightful.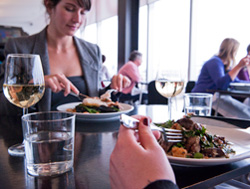 A bowl of wonderfully crunchy, salty, savoury, plum-sized green Gordal olives rolled in wild oregano and rock salt tantalized our palates whilst waiting for our entrees, as did the wonderfully chewy, pungent sourdough bread, or too much so to the point we could have almost been satisfied with this combination as entree.
My leek and potato soup with wild garlic was spot on; equally the asparagus with pickled mushrooms and shaves of Parmesan drizzled with oil. We both had fish of the day, attracted by the notion it was line-caught fresh of the Newlyn boats daily. Today's catch was red mullet fillets, which had been rolled and filled with crab meat, on a bed of cucumber. Delicious even if a little overworked.
There is a well thought out kids menu, our daughter having fish in chips, which was perfectly cooked with excellent tasty fat chips.
Our experience was exemplary with friendly, attentive, very professional service. Even when the rush started around 12.30pm, the place appeared to be running smoothly. We arrived at 11.30am which is the best way to secure a prime window seat with a 180 degree view of the Thames and Saint Paul's Cathedral.
I would suggest it's more of a lunch place, although open for dinner Friday and Saturday night. That said I would rank Tate restaurant among the best dining experiences in London and a must-do regardless of going to the gallery, although obviously a walk through the exhibitions clearly enhances the experience. It should it perhaps be the other way around, that is, art comes before the food.
Our meal cost 106 Pounds Stirling, including gratuity, which for the quality of the food, impeccable service and all round dining experience, is I feel, very good value.
You can also come up to restaurant level bar all day for a coffee and they do morning coffee and afternoon tea as well in the restaurant.
http://www.tate.org.uk/modern/eatanddrink/
Tate Modern Restaurant London opening times
Sunday–Thursday
Morning coffee: 10.00–11.30
Lunch: 11.30–15.00
Afternoon tea: 15.00–17.30
Friday and Saturday
Morning coffee: 10.00–11.30
Lunch: 11.30–15.00
Afternoon tea: 15.00–17.30
Dinner: 18.00–21.30
Bar stays open all day
---