When Thai meets wine
---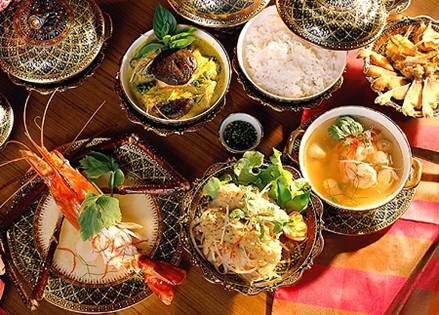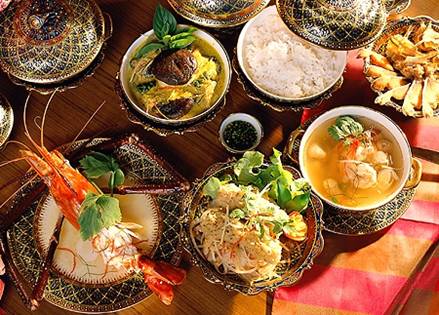 Cold beer is always good but there are several more sophisticated ways to partner this most popular of Asian cuisines, writes Curtis Marsh.
There is a great deal more complexity and flavor in Thai cooking than many other Asian cuisines and, contrary to perception, it can be paired successfully with wine.
I can fully relate to an ice-cold beer if you are eating at a stall in the sweltering heat of Bangkok. However, beer does not appease the chilli factor and, as the locals suggest, warm green tea is a better solution to extinguish the fire.
Traditional Thai table etiquette is similar to Cantonese with communal sharing of dishes in banquet style; while conducive to good conversation and informality, it does present a challenge for wine to cope with so many different flavors competing with each other at once. The problem can be compounded by a tendency for kitchens in more congenial establishments (usually BYO friendly) to bombard you with dishes in illogical order, irrespective of texture or flavor, with mains sometimes arriving before appetizers.
It is prudent to decide on the sequence of the dishes prior to ordering and to convey this clearly and firmly to your waiter. If you are choosing a large number of dishes, group them in to three or four progressive brackets and insist that they are reasonably well staggered, allowing you to experiment with different wines.
There are no set rules for matching wine with Thai food; however, aromatic white grape varieties with naturally high acidity work best, cleansing the palate as well as coping with strong flavors, spices and ever-present chilli.
Riesling (served well chilled), with its racy, powerful backbone of naturally high acidity, lemon and lime core is the perfect all-rounder for Thai food. It is particularly good with salads, picking up on the principal ingredients such as red shallots, mint, coriander, limejuice and lemongrass. It will also keep up with the spiciest tom yum soup or invigorating green curry and is compatible with stronger meat flavors such as duck or pork.
Rieslings that are "off-dry" are hypothetically favorable to chilli, also connecting with the palm sugar used liberally in Thai marinades, sauces and curries. The natural residual sugar in wine is measured in grams per litre (g/l), 2 g/l is bone-dry, above 9 g/l considered off- dry, but realistically, anything above 5 g/l is sitting on the fence. Northern German rieslings are the full monty in this arena with their naturally high residual sugars camouflaged by bracing acidity.
My two quintessential Thai food rieslings from opposite hemispheres that have similar attributes: bone-dry, muscular with racy acidity, indelible lemon-lime edged with a core of green apples, wet slate minerality with mountain-stream freshness and spicy, tangy finish – exhilarating. Jeffrey Grosset Polish Hill, Clare Valley, Australia (HK$348 from Watson's Wine; tel: 2525 1237) or the Georg Breuer Terra Montosa, Rudesheim, Germany (Enjoy Wines, who specialize in German rieslings; tel: 9778 3138: Available in Singapore through Booze Wine Shop Tel: 6532 6700)
The indigenous Austrian white grape gruner veltliner has emerged from obscurity to become the trendy partner to Asian flavors and an outstanding match with Thai salads, especially where pomelo is used. Sharing some of the characteristics and appeal of sauvignon blanc, gruner veltliner has a more sophisticated personality and is typically drier, with the exception of Wachau Smaragd which is harvested late. It is as versatile as riesling although slightly less acid but brimming with grapefruit and citrus tanginess; a juicy mandarin and stone fruit mid-palate and a unique signature of white pepper spiciness. Try Undhof Salomon Wieden GV, Krems (at HK$128, exceptional value from Solar Max; tel: 2554 1183: Available in Singapore through Oaks Cellars. Tel: 6296 2111)
Yes, I can hear you shouting sauvignon blanc. However, most are made in a consumer-friendly softer fruity style globally popularized by New Zealand, and capitulate when confronted with too much chilli. Should you be addicted to sauvignon blanc, try matching a racier, bone-dry, flinty and steely Sancerre from Loire Valley, France such as Domaine Thomas Sancerre (Kedington Wines, HK$229; tel: 2898 9323)
Oily textured, low-acid white varieties such as pinot gris, pinot blanc, viognier, gewurztraminer do not work as well with Thai food, but do not take this as verbatim, as there is always room for experimentation with crisper examples. Neither do oak matured whites or those that undergo malo-lactic fermentation, which relegates most chardonnays, with the exception of Chablis, which is predominantly unwooded and with notably flinty acidity from cool and exceptional terroir.
Red wine has its limitations with Thai food, the tannins disagreeably accentuated by the sour ingredients and flavors, but there are some beneficial liaisons such as red curries and meats.
Rose, with its vibrant and refreshing white wine attributes combined with sweet aromas and flavors of red berries, works well with the chaos of flavors from start to finish. Pinot noir-based roses from New Zealand and Australia go particularly nicely, but are difficult to find, as is decent Rose in Hong Kong full stop. Importers take note, the excellent dry rose from Domaine du Grand Cru, in Provence would well suit this purpose. www.grandcros.fr
Cru Beaujolais from appellations such as Brouilly, Morgon and Moulin- a-Vent have more power than basic Beaujolais, with intense sweet cherry flavors balanced by perky acidity, and are user- friendly and benefit from being served slightly chilled. The Georges Duboeuf range is reliable and good value (Kedington Wines; tel: 2898 9323)
You will find pinot noir is the most successful red variety to exploit. Its berry-fruit sweetness, soft tannins, silky mouth-feel and a warming spicy farewell achieve a synchronicity with the lurking heat of chilli and spices. I find the juicier, fleshier styles from Australia and New Zealand the most suitable, although I also enjoy experimenting with different Burgundy communes.
And who said red wine does not go with fish? Lighter pinots, dunked in cold water just before serving to take the edge off, are remarkably harmonious with whole deep-fried fish marinated in spices and served with sweet chilli sauce; similarly, wok-seared prawns or crab that have substantial chilli, black pepper and garlic involved. Bindi Original Vineyard Pinot Noir from Victoria, Australia hits the spot. (HK$550 from Merit Wine Boutique; tel: 2528 5028.) For pinot noir with more substance to go with red duck curry try Felton Road, from Central Otago, New Zealand (HK$499, Watson's: Available in Singapore through The Cellar Door Tel: 6464 9909)
The spicy characters and sweet and sour raspberry flavors and juicy acidity found in grenache can also go well, in particular lighter, crunchy modern style Cotes du Rhone. Try Domaine Reserve Perrin Cotes du Rhone Rouge (HK$135 from Altaya Wines; tel: 2523 1945: Available in Singapore through Booze Wine Shop Tel: 6532 6700)
For more robust dishes of pork, lamb or beef, a lighter style of shiraz from northern Rhone of France, New Zealand or cooler parts of Australia work well with their crunchy sweet-sour dark berry-fruits and spicy, white pepperiness. Try Craiglee Shiraz from Sunbury, Victoria, Australia (HK$514, Kedington Wines)
I would avoid cabernet sauvignon, Bordeaux blends, big Australia shirazs, and Italian reds which have a propensity for firm tannins somewhat lost with Thai food.
Disappointingly, Thai cuisine in Hong Kong is unduly relegated to convenience dinning or takeaway food status with an excess of pedestrian restaurants serving up humdrum deep-fried spring rolls and fish cakes, superfluous garnishes of tomato wedges and shaped carrot pieces; any possibility of authenticity lost in translation.
There is a serious lack of contemporary Thai food, especially at the mid to upper level, with the exception of Ayuthaiya, operated by the dynamic Aqua group.
By comparison, Australian chefs are at the cutting edge of Thai cuisine with acknowledged master David Thompson's Sailor Thai in Sydney, and Michelin star rated Nahm in London being global benchmarks. Thompson's book Thai Food (Viking) is an imperative reference for anyone passionate about the cuisine.
Chef Martin Boetz and restaurateur Sam Christie at Longrain in Sydney (now also in Melbourne) combine contemporary flair and the best Australian produce to create tantalizing modern Thai and Asian food, with the buzz of an open kitchen and large communal tables encapsulating traditional dining.
One of my favourite Thai restaurants that I have been visiting regularly for more than 12 years is at the Datai Resort, Langkawi Island, Malaysia (bordering Thailand). This serene setting is hard to beat, with their Thai Pavilion perched on a cliff top among the jungle canopy, looking out to Datai Bay and the Andaman Sea. Resident Thai chef Tidarat Luangthep has spent time at the Regent and Sukhotai Hotels in Bangkok and produces exquisite food, using chilli in moderation. The Pavilion has an outstanding wine list with very reasonable prices due to the island's duty-free status and the general manager's passion for wine. His favourite red wine with Thai is Gembrook Pinot Noir from the Yarra Valley, Australia. Visit www.ghmhotels.com
---