Wino Kiwis? Fundraising for Otago Kiwi Recovery Trust
---
Wanaka winos taking part in the Wanaka Challenge & raising funds for fantastic New Zealand conservation project Otago Kiwi Recovery Trust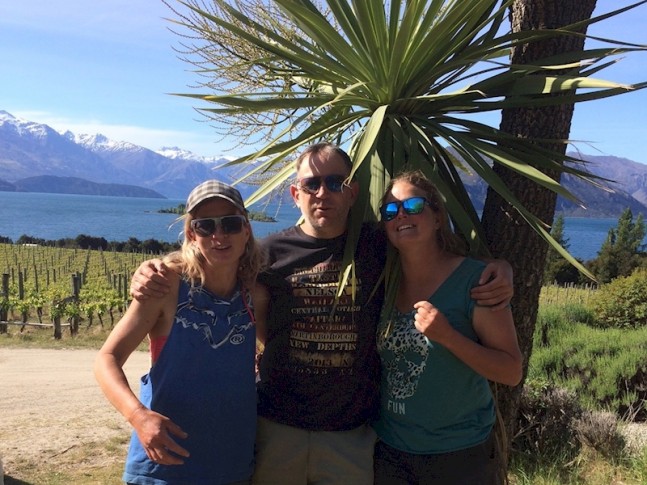 Wino Kiwis? is a team comprised of three friends and colleagues: Nick Mills, Shannon Foley and Charlie Mills.
Winos by trade, farming Rippon, a Wanaka vineyard and Kiwis by birth, we are all aware of the incredible place in which we live and the urgent need to preserve and restore its native habitats.
In February 2016, we will be taking part in the long distance triathlon event, the Wanaka Challenge in the team section. Nick will start us off with a 3.8km swim in Lake Wanaka before handing over to Shannon who will take on the legendary 180km bike ride. Rounding everything up will be Charlie who will take on the full marathon run of 42.2km, bringing us home and over the finish line. Shannon completed the full Half Challenge two years ago; this is the first time that any of us has taken part in the full Challenge event.
Rising to the challenge of the Wanaka Challenge means not just training for and participating in the event but also, in the process, raising funds for and awareness of a fantastic Wanaka initiative run by a crew of unsung New Zealand conservation heroes.
Started in 2013, The Otago Kiwi Recovery Trust, is the brainchild of Sam McLeod and John Blennerhassett, both long-time Wanaka locals and dedicated conservationists. The primary focus of this trust is to reduce the predator levels in the East Matukituki valley to a low enough level to allow for the eventual release of kiwi into our native bush of Mt Aspiring National Park.
The Matukituki valley is an ideal location for such a programme. The Main Divide of the Southern Alps provides a natural barrier to all predators coming in from the west. The Matukituki river also acts as another natural boundary. This positioning allows us to target the predators more strategically as we have only to come from the tops of the valleys into the lower reaches of the lower Matukituki catchment.
The OKRT accepts grants and donations from interested parties. If you are interested in either donating or perhaps becoming a volunteer, contact Leslie at otagokiwirecovery@gmail.com. All funds raised through this page will go in their entirety to OKRT.
Donate here: https://givealittle.co.nz/cause/winokiwis
Wino Kiwis? We hope that, with your help, there will be soon.
We are three Wanaka winegrowers actively involved in New Zealand conservation projects, both locally and further afield. Mt Aspiring National Park is an exceptional piece of New Zealand countryside, right on our doorstep . In supporting The Kiwi Otago Recovery Trust we hope to do our bit in furthering the restoration of native habitats to the region. Any support that you are able to provide the OKRT through this page is greatly appreciated by us. Thank you. Nick, Shannon and Charlie – Team WinoKiwis?, Wanaka Challenge 2016
---