Villa Maria Wine Dinner With Charlotte Read
---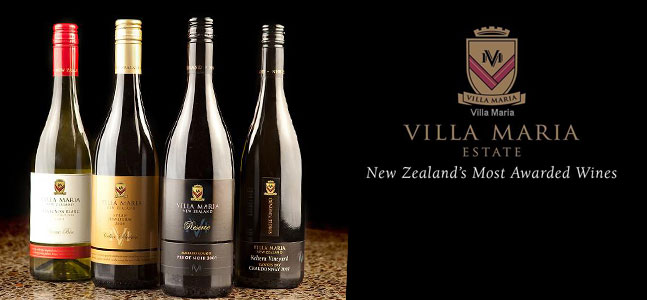 Dinner with Villa Maria's Charlotte Read
Table at 7 – Wednesday 19th October, from 7.30 pm – $132++
MENU
Villa Maria Cellar Selection Sauvignon Blanc 2010
Canapés
Villa Maria Private Bin Riesling 2010
Boston lobster salad with white asparagus & citrus confit yuzu dressing
Villa Maria Cellar Selection Viognier 2010
Warm smoked ocean trout on daikon fresh wasabi & chive dressing
Villa Maria Cellar Selection Pinot Noir 2009
Forest mushroom ravioli with porcini espuma & crispy serrano
Villa Maria Cellar Selection Merlot Cabernet Sauvignon 2009
Char-grilled 200 day grain-fed black angus ribeye on truffle mash glazed spring vegetables Cabernet sauce
Burned fresh fig with grilled goat cheese & Rosella flower syrup roasted walnuts
Coffee Tea & hand-rolled chocolate truffles

Veteran Restaurateurs Karl Dobler and Eugenia Ong bring to the table a total of more than 60 years of varied culinary expertise. At Table at 7, they offer a simple promise to their customers: Good food prepared through the careful pairing of exceptional ingredients.
7 Mohamed Sultan Road, Singapore 238957
---
Villa Maria Wine Dinner With Charlotte Read
Zambuca, Level 3 Pan Pacific Hotel
Thursday, 20 October 2011, 7pm – $140++
Indulge in an evening of gourmet New Zealand creations with Chef Lucas at Zambuca, and complete your culinary experience with a selection of premium New Zealand wines from the Villa Maria Estate. The estate was founded in 1961 by George Fistonich, who through his passion for wine and dedication to quality, has helped Villa Maria become the New Zealand wine icon that it is today.
Enjoy the company of Ms Charlotte Read, Export Manager for Asia from Villa Maria Estates and savour an exclusive contemporary five-course dinner paired with fine Villa Maria wines.
Dinner Menu
Villa Maria Private Bin Sauvignon Blanc 2011
Grilled Monkfish with Miang Sauce on Betel Leaf,
New Zealand Lamb Kofta with Pepper Chutney,
White Bait Fritters with Lemon Aioli
Villa Maria Cellar Selections Viognier 2010
Hot Smoked King Salmon with Nicoise Salad and Raspberry Vinaigrette
Villa Maria Cellar Selections Chardonnay 2009
Kikorangi Blue Cheese Risotto with Crispy Scampi
Villa Maria Reserve Merlot 2005
Villa Maria Cellar Selections Pinot Noir 2009
Slow Roasted Riverland Grass-fed Beef Tenderloin on Celeriac Puree and Oxtail Cannelloni with Truffle Cream on Glazed Baby Carrots and Beets
Baked Apple Brûlee, Almond Crumble, Cinnamon Chocolate,
Brandied Cherries, Amaretto Ice Cream
To book, please contact Estee at +65 6464 9909 or estee@thecellardoor.com.sg
Please RSVP by Monday 17th October 2011
---