Champagne Trade Tasting in New York
---
One of the world's leading authorities on Champagne, Peter Liem, is conducting a tasting in New York, at Matsuri Restaurant, The Maritime Hotel, that will involve a discussion of the role of terroir in Champagne, illustrated by a tasting of three producers from very different areas: José Michel in the Coteaux Sud d'Epernay, Thierry Triolet in the Sézanne, and R. Dumont in the Aube.
There are two (identical) sessions, one at 11am and the other at 2:30, and both involve 14 wines each. RSVPs are required, to the e-mail address on the invitation below.
This is for trade only, so sommeliers, restaurateurs and chefs, this is excellent opportunity to absorb Peter's thorough knowledge on the subject further illustrated through three superb artisan producers.
For more on Peter Liam and Champagne, visit www.champagneguide.net
"ChampagneGuide.net is the web's most comprehensive guide to the wines and wine producers of Champagne. This online guide features profiles of over 100 champagne producers, from renowned négociant houses to small grower estates. As a professional wine critic living in the Champagne region of France, I enjoy an unusual and intimate perspective on the region and its wines, allowing me to bring you an informative, highly detailed and continually updated wine guide written from an insider's point of view."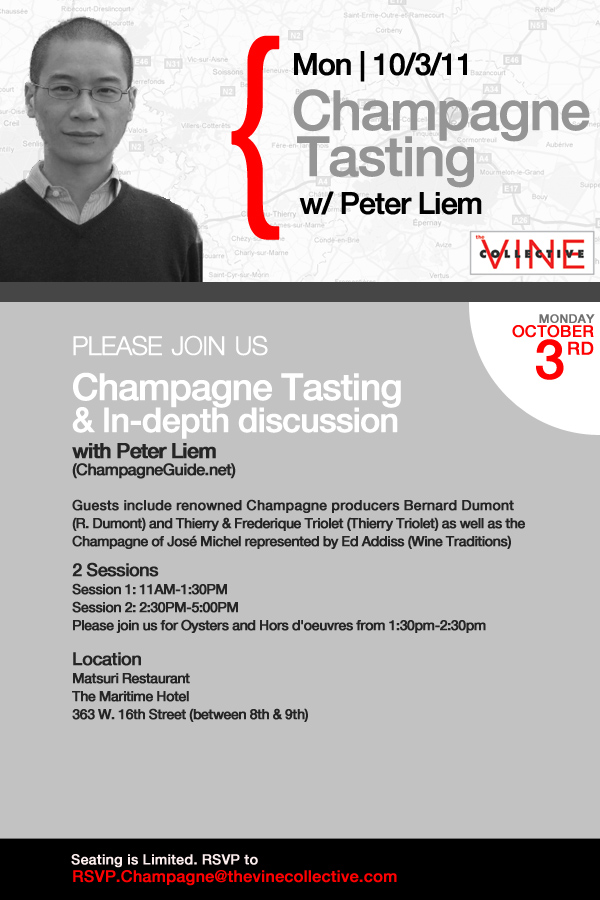 ---