Sarah Blasko Live in Singapore
---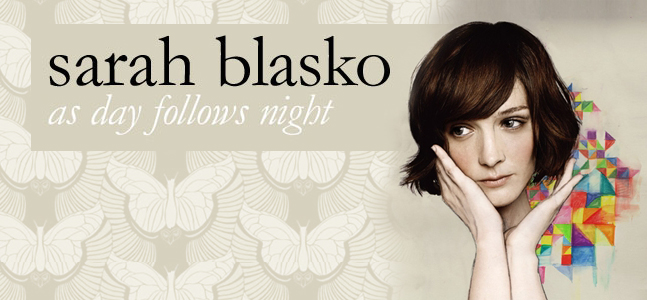 Songs that transcend genre are the forte of singer-songwriter Sarah Blasko. Originally hailing from Sydney, Australia (and now transplanted in the United Kingdom), Blasko appears to mine the similar vein that fueled the imaginations of Joni Mitchell, Kate Bush, Tori Amos, Bjork and Fiona Apple. Ethereal creatures that based their otherworldly songs on structures borrowed from jazz, classical, folk and music hall traditions.
With her third album, As Day Follows Night, Blasko decided to record in an unfamiliar environment (viz. Sweden) with producer Bjorn Yttling and whether that change resulted in a different kind of recording is debatable. Blasko continues to sing in an affected manner (recalling Bjork on many occasions) and there is definitely a strong chamber music atmosphere permeating throughout the album.
Ironically, in my view, the best track comes at the end with the haunting Night & Day as spectral piano and nylon guitar provide uneasy accompaniment. Elsewhere, Over and Over offers a rare sprightly moment as Blasko bizarrely quotes from the Talking Heads' Road to Nowhere, Bird on a Wire is a subtle bluesy stomper and Sleeper Awake is a rotating, freewheeling neo-classical dreamscape.
Blasko's stripped down, austere albeit sophisticated songs stylings will certainly go down very well within the confines of the Esplanade Recital Studio. Fans and admirers would be well advised to check Blasko when she is in town.
---
Sarah Blasko
won
Best Female Artiste at the ARIA awards 2009
(Australian Recording Industry Awards) and has been touring in support of her critically acclaimed 3rd album "
As Day Follows Night
". Don't miss this rare opportunity to have Sarah mesmerize you with her song craft in the intimacy of the 200-seater recital studio.
As Day Follows Night
"A monumental release and one that offers something new with every listen … imagine a whole world compacted into twelve songs and you're some part of the way there."
Maverick (UK), March 2010
"Wry, understated tales of redemption and disorientation … lovely and thoughtful"
Q Magazine, May 2010
"Produced by Björn Yttling of Peter, Björn and John in Stockholm, the irony is that despite the freezing climate it was recorded in, this is as warm as Blasko has ever sounded – immaculate, organic and airy … there's also a sense of freedom, and a feeling that the listener has been invited in to enjoy Blasko's brilliance, not just forced to admire it from a distance."
Rolling Stone, July 2009
" As Day Follows Night … is a delight for connoisseurs of assertive pop. Majestic."
Le Metro (France), April 2010
"An album of the year contender."
Iain Shedden, The Australian, 11 July 2009

---
Sarah Blasko Live in Singapore
Date:
8 Nov 2010 – Monday, 7:30pm
Duration
: Approx 70 mins
Venue:
Esplanade Recital Studio
Ticket Price
(Exclude Booking Fee): Standard – SGD$55
Tickets available from SISTIC
Sarah Blasko Website www.sarahblasko.com
Sarah Blasko Twitter twitter.com/sarahblasko
More music of Sarah Blasko on YouTube www.youtube.com/user/SarahBlasko
This article was publish in Power of Pop. All Rights Reserved.
---