Penfolds Yattarna Chardonnay Vertical
---
Conducted by Paul Georgiadis Penfolds Viticulturalist & Grower
"The ABC (anything but chardonnay) syndrome is not relevant anymore, unless you want to change it to 'another brilliant chardonnay" – The Wandering Palate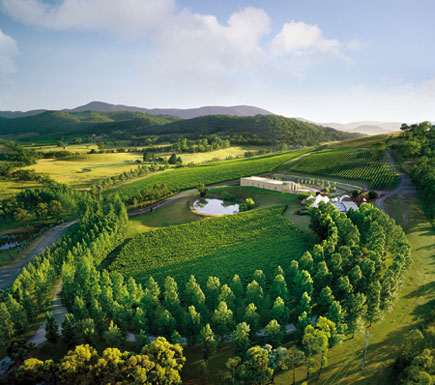 This vertical of Penfolds Yattarna Chardonnay is perhaps one of our most enlightening master classes, not only in the sense of an unprecedented showing of this wine in Singapore, it also maps the evolution in chardonnay trends and highlights 'contemporary' Australian chardonnay is again at the forefront of the renaissance of the king of white grapes. Read more on this at "Another Brilliant Chardonnay"
There is unquestionably a global resurgence in Chardonnays favour and whilst consumers in traditional mature markets around the world are rediscovering the lustre of the variety, Asia is emerging to be a strategic market as well, even though dominated by red wine consumption, there is evidence consumers here are less enamoured with crisp, aromatic whites, preferring a richer, nutty-savoury, buttery flavours and oily-textures, to which chardonnay is simpatico.
Most wine consumers are familiar with the indisputable quality and value of the Penfolds repertoire of red wines and they have been steadily working on their white wine reputation with consensus amongst the world's wine writers that Penfolds white wines are now on par with their reds. Clear evidence of this comes from Jancis Robinson MW in her comments on a blind tasting on London, February, 2010, where Australian Chardonnay's were compared with examples from around the world. Robinson singled out the Penfolds Yattarna 2006 commenting, "Leesy, nervy nose. Transparent and very refreshing with great delicacy. Juicy and lively and this sails above any oak influence. Neat, appetising finish. ['White Grange' did perform on the day!] 17.5 Drink 2011-15".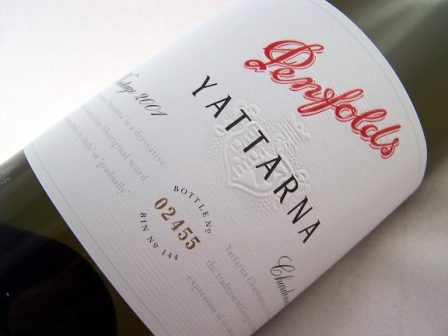 Robinson's reference to "White Grange" follows the notion that Yattarna was created as a stable mate to the legendary Penfolds Grange (Hermitage). In Penfolds own words, Yattarna Chardonnay was launched in 1998 with the 1995 vintage and the result of one of the most comprehensive, focussed and highly publicised wine development projects ever conducted in Australia.
The aspiration and independence of mind across generations of Penfolds winemaking inspired the winery to embark on a program to create a white wine that could one day rival the standards of Penfolds Grange.
Selectively sourcing only the very best Chardonnay fruit from cool-climate regions, which currently incorporates Tasmania, the Adelaide Hills and Henty, coupled with sensitive and enlightened winemaking, the style continues to evolve.
Yattarna reflects Penfolds' patience and continued commitment to its original goal, its very name being drawn from the Aboriginal language, meaning 'little by little, gradually'. Each vintage provides the opportunity to further raise the quality bar.
Here are the tasting notes on 2007 Yattarna Chardonnay from Peter Gago – Penfolds Chief Winemaker: "At once, noticeably different to the Bin A Chardonnay. This Chardonnay expression exudes a limey citrus restraint that has stylistically evolved across many years of fine-tuning of sourcing & winemaking technique. Cantaloupe, cured bacon rind and subtle, spicy oak give way to complex nut kernel and pecan pie complexities – no doubt arising from yeast lees battonage in barrique. An explosion of citrus and white stonefruits prelude a layered and creamy custard apple-like mid palate. A core of fine, mineral, lemony acid skates across the entire palate, projecting great length of flavour and linearity…
Definitively Yattarna: brooding restraint awaiting release… soon to be unleashed!"
Adding to the uniqueness of this tasting and bringing a different yet vital perspective of how Yattarna is 'made in the vineyard', it will be conducted by Paul Georgiadis, Penfolds Viticulturalist & Grower. Paul is the owner of a Barossa Valley vineyard managed by his father which has supplied premium grapes to Penfolds since 1974.
In 1991, Paul decided to join Penfolds where he was part of the original team which developed some of Penfolds already famous and award-winning wines including Yattarna Chardonnay, RWT and Bin 138.  In addition to developing new wines, Paul's dream was to produce grapes of a high enough calibre on is family vineyard for Penfolds' iconic Grange and in 2006, after years of perseverance, his dream finally came true.
Paul is joined by master class room emcee, Lisa Perrotti-Brown MW, who is an expert commentator on Australian wine and is the contributor to the leading publication, Robert Parker's Wine Advocate, on Australia and New Zealand wines. Between Paul's in depth knowledge of Yattarna, Lisa's wisdom and a comprehensive line-up in this unprecedented vertical, this master class should not be missed.
Confirmed Wines
PENFOLDS Yattarna Chardonnay 2000
PENFOLDS Yattarna Chardonnay 2001
PENFOLDS Yattarna Chardonnay 2002
PENFOLDS Yattarna Chardonnay 2003
PENFOLDS Yattarna Chardonnay 2004
PENFOLDS Yattarna Chardonnay 2005
PENFOLDS Yattarna Chardonnay 2006
PENFOLDS Yattarna Chardonnay 2007
PENFOLDS Yattarna Chardonnay 2008
SGD$80 per person
St. Regis Hotel, Boardroom V – 9.00am to 10.00am, 9th April 2011.
Official event website: www.burghoundinasia.com
Bookings through:
burghound@hermitagewine.com | Tel +65 6272 2013 / +65 6438 1120
---