What do Quebec, an Old Sea Dog, a Woodsman & Great Burgundy have in common?
---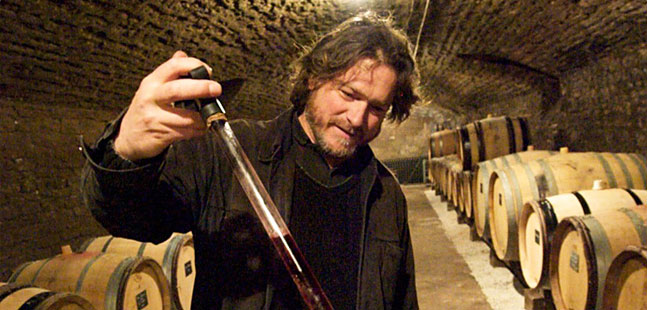 Answer: Pascal Marchand, one of the great characters of Burgundy.
In a region that is habitually prosaic, Pascal Marchand is atypical – a real character and a solid chap to boot. He's half woodsman and half old sea dog – indeed, in his teenage years he was in the merchant navy. He is undeniably a woodsman, since he comes from Quebec, a country of vast forests, but also because "bois", the French for "wood", is the name given to the vine branches pruned in winter – and Pascal is clearly a vine-caring man.
When Pascal first came to Burgundy in the 80s, the vines' soil was still full of chemical products, however he was then part of a young generation of viticulturists who were conscious of the dangers faced by the vineyards and who resolutely adopted organic and biodynamic practices. Many of those pioneers became renowned wine growers, Pascal the first among them when respected French wine critic, Michel Bettan, declared his Pommard Clos des Epeneaux 96 the world reference for Pinot Noir.
From his time as winemaker at Domaine des Epeneaux to establishing the Boisset family's heralded Domaine de la Vougeraie, Pascal has been at the forefront of making some of Burgundies best 'natural' wines, in his own words, "Wine must reflect the earth that has nourished the vine-stocks. Just like man, wine must not forget its roots! A vine's roots become particularly long and deep if we let them develop naturally. And "Naturally" is the key word. Pascal now owns his own micro-negoce, "It's a "micro" négoce because it'll have to remain a small-scale business. It is the only way to have enough time to watch over each cuvée and to really look after every bottle."
Confirmed Wines
Maison Pascal Marchand Gevrey Chambertin Les Roncevies 2008
Maison Pascal Marchand Gevrey Chambertin 1er cru Les Cazetiers 2008
Maison Pascal Marchand Latricières Chambertin 2008
Maison Pascal Marchand Mazy Chambertin 2008
Maison Pascal Marchand Chambertin Clos de Bèze 2008
"Pascal Marchand, formerly of Domaine Comte Armand and Domaine de la Vougeraie has founded his own négociant operation… I was impressed by what I tasted and the total range is even larger than what is reflected by the notes. Moreover, the range of grands crus is more than admirable, especially to have Musigny as a négociant wine, which is relatively rare these days" Burghound
Maison Pascal Marchand Chambertin-Clos de Bèze 2009 – Score: 93-95
"Tasting note: An overtly spicy, cool and elegant nose that features a broad array of earth, game, underbrush, humus and stone notes that marry into opulently rich, full-bodied and quite serious big-bodied flavors that possess excellent mid-palate concentration and simply gorgeous length on the quite firmly structured finale. This will require close to 20 years to be at its best." Burghound
Pascal will be presenting his wines for the first time in Singapore with an impressive Chambertin line-up for the 2008 vintage and will surely be one of the highlights of our event.
1.30pm to 2.30pm, 9th April 2011 – SGD$80 per person, St. Regis Singapore Hotel, Boardroom IV
Official event website: www.burghoundinasia.com
Bookings through:
burghound@hermitagewine.com | Tel +65 6272 2013 / +65 6438 1120
---