Mornington Peninsula International Pinot Noir Celebration
---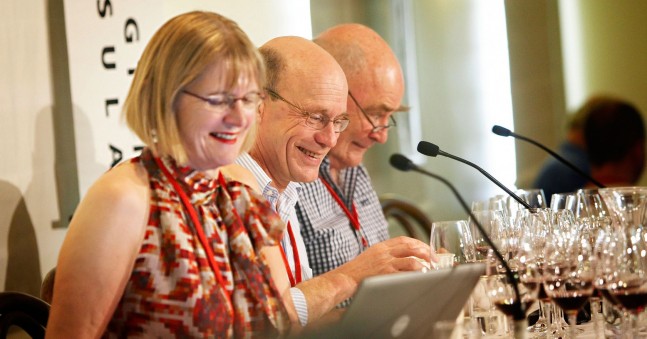 The Mornington Peninsula Vignerons Association will once again play host to the Mornington Peninsula International Pinot Noir Celebration, January 28 & 29, 2011, a "must attend" event for pinot noir enthusiasts and a chance to celebrate the magic of this cool climate variety within a global perspective.
The festivities begin on Friday and Saturday January 28 & 29, with two full days of tutored tasting sessions tasting pinot noirs from around the world alongside national and international wine media and producers from the US, France, New Zealand and Australia. For the pinot fanatic, this can only be described as two days of "serious fun"!
The new home for the 2011 event is the RACV Cape Schanck, a fresh and light-filled setting with sea views, providing the perfect setting for wine tasting on the Mornington Peninsula.
Guest producers will include Etienne de Montille from Domaine de Montille in France, as well as another "soon to be announced" international producer whose wines will be tasted alongside standouts from USA, New Zealand and Australia.
The international keynote speaker has always been a much anticipated highlight of the event, and 2011 will not disappoint with Allen Meadows, burghound.com as special guest.
Highly regarded as one of the world's foremost authorities on Burgundy, Meadows is a former finance executive who, after electing to retire in 1999 to write a book on Burgundy, instead decided to found the now infamous burghound.com, his quarterly review devoted exclusively to the coverage of burgundy/pinot noir.
Burghound.com was the first of its kind to offer specialised, and more importantly, exhaustive coverage of a specific wine region. The first issue was released in January 2001 and now there are subscribers in more that 50 countries worldwide. It is compulsory reading for the pinotphile.
Meadows spends over four months a year in Burgundy and visits more than 300 domaines during that time, making him an ideal spokesperson for the grape. He will be an excellent addition to a weekend devoted to pinot noir!
Day One, Friday January 28 kicks off with a welcome address by Allen Meadows, burghound.com, followed by a full day of pinot noir tasting. Wines will be tasted in three brackets throughout the day, with intermittent discussion and comments by the producers, panellists and attendees. That evening, celebration guests break into smaller groups for relaxed dinners at a variety of the Mornington Peninsula's best restaurants.
Day Two, Saturday January 29 is another day of "seriously fun" tutored wine tasting, with four brackets of international pinot noir tasted over the day with a break for lunch.
Saturday evening is a special highlight – the International Pinot Noir Celebration 2011 Grand Banquet.  The dinner will be held at the new architectural landmark winery and restaurant complex – Port Phillip Estate* which will be a stunning setting with vineyard and sea views for enjoying Chef Simon West's sublime food alongside, naturally, pinot noir!
An optional third day event was successfully introduced in 2009 and continues in 2011 – the Pinot Garden Showcase on Sunday, January 30.
Kicking off at 11am at the sunken garden at Lindenderry at Red Hill, the Pinot Garden Showcase is a day for celebration attendees and additional wine and food enthusiasts to relax in an outdoor setting and enjoy a regional showcase of Mornington Peninsula pinot noir, alongside sublime regional food in the beautiful peninsula landscape.
Guests will be given a tasting glass and can wander between wine stands, sampling the region's best pinot noirs and chatting to the winemakers while enjoying Mornington Peninsula produce prepared by a host of excellent local restaurant chefs.
A special highlight of the Garden Showcase will be the opportunity to join a Burgundy Masterclass, held three times throughout the day and led by knowledgeable producers.
"Since its inception in 2000, the Mornington Peninsula International Pinot Noir Celebration has grown into a serious event and the quality of wines just gets better and better", says David Lloyd, event chair and owner of Eldridge Estate of Red Hill. "We have always attracted excellent speakers and Allen Meadows, burghound.com promises to be a real addition in 2011".
After the 2005 event, James Halliday enthused, "the Pinot Noir Celebration organised by the Mornington Peninsula Vignerons is one of only a handful of wine events dedicated to Pinot Noir in the world. It is a unique opportunity to listen and learn from the world's greatest wine palates and experience Pinot Noir at its best. I am delighted to be involved" And on looking at the programme for the 2011 event he commented, "Incredible though it may seem, 2011 looks like being the best yet".
Tickets to the 2011 Mornington Peninsula International Pinot Noir Celebration (full registration 28 & 29 January 2011 at RACV Cape Schanck Resort) are $935.00 (incl. GST). Tickets to the Pinot Garden Showcase (an optional extra on Sunday January 30) are $110.00 (incl GST).
Full Registration numbers are strictly limited to 200 attendees and registration is only confirmed on receipt of payment.  For bookings phone +6103 5989 2377
For more information visit www.mpva.com.au
* Buses will transport guests to local restaurants on Friday night, and from RACV Cape Schanck to Port Phillip Estate on Saturday night.
For media information contact:
Betsy Pie, Betsy Pie Communications
Tel: +6103 9827 2386 or +61 0411 886 386
Email: betsypie@bigpond.com
---