The Austrian are Coming!
---
Austrian Wine Expert, Michael Thurner MBA, presents some of the top pinot noir and chardonnay produers that are sweeping the world wine stage.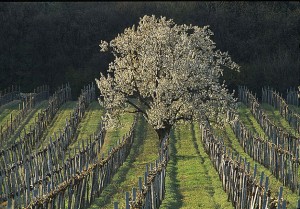 If you think great pinot noir and chardonnay only belongs to the realms of Burgundy, then you obviously have not tried Austrian wines, with pinot noir in particular taking centre stage.
There are a lot of pinot noir producers around the new and old vinous world – New Zealand, Australia, USA, Germany, Switzerland – chasing the pinot noir 'holy grail' of supreme elegance and texture, vital to the charm of this variety.
However, despite some most impressive efforts many fall short of "pinosity" and realistically could be categorized as dry red; simply lacking the complex nuances of the pinot noirs spiritual home, Burgundy.
The new world could argue it is a question of style, and there is certainly some merit in this with the more vibrant fruit and natural sweetness found in the wines. However, with the old world it is more a question of comparing apples with apples (savoury and more tangy spectrum of flavours)  and it is becoming increasingly evident that Austria can, and has, produced wines of extraordinary complexity and quality.
Only this year I discovered the Markowitsch Reserve 2004 from Austria, an amazingly Burgundian style wine. It was blind-tasted in a line-up of very impressive pinot producer from all over the world, including some serious names from burgundy; Premier Crus and Grand Crus from great estates including Romanee-Conti, Georges du Vogue, Roumier, Meo Camuzet, Jadot, Drouhin, Auguste Lignier, Comte Armand and Mommesin.
The tasting was put in by Michael Thurner, our dynamic Austrian wine marketer in Asia who is always stirring the pot when it comes to the regions mindset, or set minds as it were and the bias towards French wines. He certainly did a good job on this professionally in organizing a top panel and well chosen selection of wines, but also a favourable result (well for him, but also stunning the group in the outcome) with 6 of the top 10 pinot's coming from Austria. Bravo Micahel! For the full juice on the tasting visit www.austriasfinebrands.com
So, if you want to discover what the rest of the wine drinking world has cottoned on to; that Austrian wines have surged in popularity over the last decade and not just the iconic white and sweet wines, but also reds. And I quote Jancis Robinson MW, "Austrian white wines have been the darlings of the world's more sophisticated sommeliers for some years now, but are wine drinkers ready for Austrian reds?
The forum on my website has been animatedly discussing the burning topic 'Are Austrian reds poised for a popularity explosion?'
Last August a high profile blind tasting was held with the top tasters of Singapore, who ended up preferring Austrian Pinot Noirs to many a famous red burgundy."
There has been limited availability of Austrian wines in the Asian market up until now however, virtuoso Michael Thurner is championing a burgeoning influx of the finest producers and will be presenting a range of wines that will enlighten and captivate wine enthusiasts.
On completing his Wine MBA degree from the Bordeaux Business School, Michael Thurner was promoted from project manager to managing director of the dynamic Austrian wine Marketing Board up until 2007. Subsequently, he now heads his own business Austrian Fine Brands, residing in Singapore and pioneering Austrian wines in Asia.
There are some very special wines in this master class and the opportunity to discover at a greatly subsidized price and benefit from Michaels thorough knowledge and passion on the subject.
Confirmed Wines
Bründlmayer: Sekt Rose NV, Kamptal
Markowitsch: Pinot Noir Reserve 2004 – Carnuntum
Wieninger: Pinot Noir Grand Select 2007 – Vienna
Juris: Pinot Noir Reserve 2006 – Burgenland
JR Reinisch: Pinot Noir Holzspur Grand Reserve 2004 – Thermenregion
Tement: Morillon (Chardonnay) Zieregg 2007 – Steiermark
Kollwentz: Chardonnay Gloria 2007 – Neusiedlersee-Hügelland
Markowitsch: CH Schüttenberg 2008 – Carnuntum
JR Reinisch: Rotgipfler Reserve 2006, Thermenregion
Blind Bracket
Huber: Grüner Veltliner, Berg 2007 – Traisental
Velich: Chadonnay Tiglat 2007 – Burgenland
Fontaine Gagnard: Crîots-Bâtard Montrachet Grand Cru 2007
Jurtschitsch: Grüner Veltliner Käferberg 2007 – Kamptal
And to titillate you even more, the middle bracket of whites will be served blind with a top Grand Cru white Burgundy Fontaine Gagnard: Crîots-Bâtard Montrachet 2007, pitched against 3 Austrian whites: outstanding value of SGD$50 per person.
4.00pm to 5.00pm, 9th April 2011 at St. Regis Hotel, Boardroom 2.
Click here to book your tickets online!

Official event website: www.burghoundinasia.com
Bookings through:
burghound@hermitagewine.com | Tel +65 6272 2013 / +65 6438 1120
---