Man & Wine
---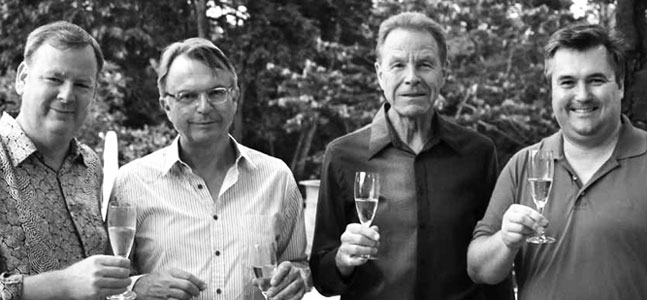 "Last night was a bit of a revelation for me," he confesses, "I always assumed that when you come to somewhere like this you drink some pink things with an umbrella in them. Or beer." And his colourful, dinosaur bedecked shirt does betray this misconception. Best known for his starring roles in Dead Calm, The Piano and of course Jurassic Park, Sam Neill was invited by "The Wandering Palate" Curtis Marsh, to host a wine-pairing dinner at The Datai in Langkawi.
Featuring a selection of wines from his family-owned vineyard, Two Paddocks back in New Zealand, Neill was genuinely surprised to discover how well his wines complemented the Thai cuisine served at The Pavilion and vice versa. The Picnic Riesling 2009 in particular highlighted the tangy, crisps flavours of the yam mamuang; a variation of the traditional mango salad. Whilst the roasted duck curry and pineapple rice brought out the subtle, earthy tones of the Single Vineyard Pinot Noir 2006. "I'm abandoning the umbrella drinks and I'm only going to drink good wine when I'm in Asia from now on. Or sake if I'm in Japan," he adds.
Touching on the growing wine trend in Asia, he agrees that people can sometimes feel intimidated when it comes to drinking wine. "For me wine is about living; and also about conviviality, and friendship and conversation and silliness and romance. It's like art and cars… the more you know the better you understand."
Although he agrees that we should do away with 'orthodox' rules with regards to winepairing, there is one principle he adheres to. "I never drink after the main course because I know that pinot and sticky toffee pudding is absolutely outrageous!" he laughs.
This, however is not his first time in Malaysia, surprisingly enough. Having visited several times on work-related trips Neill admits that the thought of pairing Two Paddocks wine with Asian food never occurred to him. "I never really considered it you know. I guess that's a lack of imagination on my part," he shrugs thoughtfully. "The only time I've drunk serious wine in Asia before has been in places such as smart restaurants in Hong Kong where you're in a room like a fridge and you're eating French food for some reason…" Sounds like the celebrity high-life, but Sam Neill is as far from primadonna as a Riesling is from Champagne.
The Pinot enthusiast started his vineyard in 1993, when he planted five acres of Pinot Noir in Central Otago. "I just wanted to produce some agreeable table wine that my friends could come and get noisy with." And they did with great delight. This, not to mention the proprietor's partiality to it—"I call it the everyday Pinot, cause if I can I'll drink it every day"—has caused the Two Paddocks Pinot to be notoriously scarce at times.
Neill recalls the first case of wine they took back from the winery four years later. "My wife and I opened that first bottle without expecting anything at all, no idea what we were going to drink."
It remains one of the most memorable moments in his wine-making experience. "We had a bit of a swirl and then we had a bit of a sniff and then we had a bit of a drink. And we looked at each other and both our eyebrows shot up simultaneously and we tried not to sound too surprised," he laughs. "But we both said at the same time—this is really good!"
"That was the single best moment," Neill claims. But it does have its drawback—of sorts—and in the vigneron's case; "You want to open a bottle of wine one day and know without a shadow of a doubt that, that is the best pinot noir in the world. But that's a myth." However there is no desire to expand Two Paddocks. "We make what I think is good wine and I don't want it to be any bigger. There's a lot of time and devotion put in these little plots of land. I don't want to be General Motors," he insists.
But it is not always fair weather and good harvest. Things can get a little worrying especially at this time of year. "It's particularly bracing because the grapes are coming in. We had hail yesterday, there was no damage but there's snow on the hills." No doubt that growing wine can be risky business, but the actor remains philosophical about the hazards. "That's also what's exciting about it cause you never know what nature intends. Anything and everything will happen. But there's also something exhilarating about danger."
Speaking on the future of the wine industry, Neill expresses his concerns that many people will start investing in it for the wrong reasons. "The truth is there's too much wine in the world. At the same time, and that's a great comfort, someone once told me that there's never enough great wine."
Two Paddocks is in its eighteenth year now and Neill is looking forward to the 20s phase. Having grown-up daughters he likens the vineyard to raising children. "When vines are going through their teenage years, they can be volatile. They can be wonderful and uncooperative and once they get into their 20s they tend to settle down."
As we wrap up his eyes are drawn to the turquoise brilliance of the Andaman Sea peeking through the ancient rainforest. "It really is sort of unimaginable isn't it?" he muses. "You're right in the middle of this incredibly beautiful jungle. And it's the right size," says Neill referring to the resort. "It's big enough to disappear in but not where you've got millions of families around you." The evening sun is low on the horizon. "This has been a pretty ideal day. How gorgeous is this?" He turns to ask for the time and smiles contentedly, "I can feel a glass of wine coming now."
This article was publish in Expatriate Magazine Malaysia. All Rights Reserved.
---