Maison & Domaine Leroy – The Queen of Burgundy
---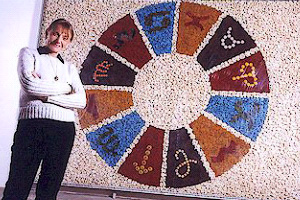 One of the crowning event's of our Burghound in Asia program and suitably so for the 'Queen of Burgundy', Madame (Lalou) Bize-Leroy is arguably one of the most well-known if not controversial persons in Burgundy. She is the owner of Domaine d'Auvenay and Domaine Leroy and since 1955 has been at the helm of the family's negociant business, Maison Leroy, established in 1868.
Despite presiding over some of the most lauded appellations of her own, Bize-Leroy is perhaps most time famous for her time at Domaine de la Romanee Conti where her father had purchased half of the Domaine in 1942 and she co-managed from 1974 to 1992 with Albert de Villaine, DRC's current director. In charge of marketing she is attributed to turning DRC into one of the most sought after wines in the world. However after several disagreements with Villaine, she left under acrimonious terms to focus on her own significant vineyard holdings and during the 1990s established Domaine Leroy to become one of the leading properties in Burgundy.
Today she is perhaps even more famous as one of the champions of biodynamic wine in Burgundy and all France, being a strong believer in biodynamic and organic ideology and practices it in all her vineyards. Moreover she is known for her "heroically" low yields bordering on miniscule, partly because of old vines, but nevertheless way below the norm and where many other producers seek to exploit prestigious appellations. This might in part explain her breathtaking wines, both in concentration and price!
"DOMAINE LEROY IS A WELCOME REMINDER OF THE DIFFERENCE BETWEEN THE VERY GOOD AND THE GREAT" – Michel Bettane "VINS DE FRANCE" MAGAZINE
This very special master class will be presented by distinguished wine author and writer Andrew Jefford who is also the contributing editor and columnist for Decanter magazine. Jefford is particularly passionate on the subject of Burgundy and an avid practitioner on terroir and biodynamic/organic ideology and will incorporate this in to his discussion, along with defining the differences between Maison and Domaine Leroy wines. He is assisted by Ebby Reyhani from Culina, agents for Leroy, who have contributed in making this tasting a most affordable opportunity to taste Leroy wine, a privileged and special occasion at S$225 per person – a third of the cost of a Domaine Leroy village wine!
Confirmed Wines
Maison Leroy Meursault 1er Cru Blagny 1999
Maison Leroy Puligny Montrachet 1er Cru 1999
Maison Leroy Meusault 1er Cru Les Charmes 1997
Domaine Leroy Pommard "Les Vignots" 2006
Maison Leroy Nuits St Georges 1er Cru Les Poulettes 1999
Domaine Leroy Nuits St George 2006
Burghound.com tasting note on Domaine Leroy Nuits St George 2006
"Producer note: Lalou Bize-Leroy calls 2006 the "modern day equivalent of 1962. In fact, 2005 and 2006 are very much like 1961 and 1962. There are of course always differences but to the extent that any vintage can really be compared with another, those are reasonably good parallels."
"Tasting note: A more deeply pitched and earthier nose of briar, underbrush and a sauvage note infuses the red and dark pinot fruit aromas complements the rich and admirably fresh flavors that possess a beguiling natural sweetness on the dusty and subtly mineral finish. This isn't more complex but it is marginally longer on the more obviously structured finish."
Early Bird Bundle – Book for The rise of Spätburgunder – German Pinot Noir the equal of Burgundy – 9am to 10am (SGD$80) and the Domaine Leroy master class and receive a complimentary ticket to the Grand walk-about Tasting.
St. Regis Singapore Hotel, Boardroom 1 – 10:45pm to 11:45am, 9th April 2011
Official event website: www.burghoundinasia.com
Bookings through:
burghound@hermitagewine.com | Tel +65 6272 2013 / +65 6438 1120
---