"Le Mesnil" – A Grand cru Champagne
---
Distinguishing terroir in a single vineyard Champagne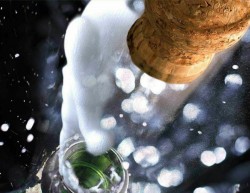 There is no question Champagne is a very unique region and its wines distinctive in their "sense of place", resonating terroir. There is however some debate that truly distinctive terroir cannot be achieved in a wine that is blended from multiple regions and vintages. Perhaps the interpretation of terroir itself is being misinterpreted as it is the relationship between the soil, climate – the environment – and man himself that defines terroir. Without man and the idiosyncrasies of vignerons terroir does not exist.
However, if we 'drill down' in geographical and geological terms, there are distinctive sub-regions with Champagne and individual villages and single vineyards where the aspects of soil and climate are enhanced and consequently more expressive in the wine. In the process of identifying these exceptional sites, the Champenoise developed a classification of villages rating them in a percentile system known as the Échelle des Crus (ladder of growth) with the lowest rating being 80%, followed by Premier cru villages rated between 90 and 99 percent, and the highest rated villages 100 percent and afforded Grand crus status. Needless to say, the higher percent the higher the price paid for the grapes.
There are 17 Grand cru villages and one such village, Le Mesnil-sur-Oger in the Cotes de Blancs is arguably the "King of Champagne villages". The purists will point to the fact the village is almost entirely devoted to growing chardonnay and this in itself allows a heightened degree of minerality to permeate through the wine. There is also the propensity towards 'Grower Champagnes' in the village of Le Mesnil where individual growers are making their own wines with the notion these 'artisan wines', sometimes from single vineyards, are the most genuine expression of Champagne terroir.
I suspect the average consumer is unacquainted with the concept of 'Grand cru' wines from Champagne and that the Grand Marques (well known houses and labels) and the prestige of luxury cuvees dominate the status conscious. However, single vineyard Champagnes are indeed precious and they exist in concentration around the village of Le Mesnil-sur-Oger.
One of the highlights of our master class program, this will be presented by distinguished wine author and writer Andrew Jefford who is also the contributing editor and columnist for Decanter magazine. Jefford is particularly passionate on the subject of Grower Champagnes and has an extensive knowledge on the subject in general along with his affinity for terroir and artisan wines.
Confirmed Wines
Pierre Peters Cuvee Speciale 'Les Chetillons' Grand Cru 2000
Pierre Peters Cuvee Speciale ' Les Chetillons' Grand Cru 2002
Guy Charlemagne Cuvee Mesnillesime Grand Cru 2002
Guy Charlemagne Cuvee Mesnillesime Grand Cru 2003
J. L. Vergnon Millésime Brut Blanc de Blancs Grand Cru 2004
J. L. Vergnon Cuvée Confidence Brut Nature Blanc de Blancs Grand Cru 2004
Champagne Salon Blanc de Blancs 1997
Champagne Salon Blanc de Blancs 1996
This is must-attend for any Champagne lover moreover with such a line-up of unique wines, including two vintages of the inimitable Salon, this tasting offers exceptional value at SGD$150 per person.
St. Regis Hotel, Boardroom 1 – 4.00pm to 5.00pm, 9th April 2011.
Official event website: www.burghoundinasia.com
Bookings through:
burghound@hermitagewine.com | Tel +65 6272 2013 / +65 6438 1120
---