Felton Road Wine Dinner with Nigel Greening
---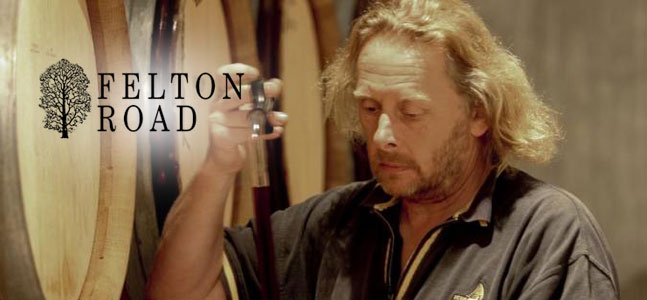 Nigel Greening, the precognitive practitioner of pinot noir, chardonnay and riesling, and proprietor of the iconic Central Otago vineyard Felton Road will be in Singapore for a brief stopover and hosting a wine dinner at the St Regis, Yan Ting restaurant.
Greening is one of the most charismatic and engaging wine speakers I know and his wines are simply the very best from New Zealand. The dinner, conclusive of wines, is extremely well-priced and you are assured of an excellent and entertaining evening – not to be missed.
Bookings through Cellar Door, call Estee at +65 6464 9909
---
Wine Dinner with Nigel Greening $148++
Yan Ting St Regis, Saturday 20 Aug from 7pm
MENU
Felton Road Banockburn Riesling 2010
Canapés
Deep-fried Whitebait flavored with Garlic,
Steamed Pork and Shrimp Dumpling 'Siew Mai',
Vegetarian Spring Roll
Felton Road Bannockburn Dry Riesling 2010
Appetizer Trio
Deep-fried Prawn Filled with Fresh Mango,
Goose Liver Terrine with Garden Salad,
Soya Sauce Chicken
Yan Ting's Signature
Braised Superior Shark's Fin in Golden Sauce
Felton Road Chardonnay 2009
Sautéed Lobster with Superior Broth
Deep-fried Silver Cod with Spicy Sauce
Felton Road Bannockburn Pinot Noir 2010
Sautéed Beef Tenderloin with Garlic
Felton Road Cornish Point Pinot Noir 2010
Braised Ee Fu Noodle with Shredded Duck and Enoki Mushroom
Mango Pudding
Glutinous Rice Dumpling filled with Black Sesame Paste
---
Nigel Greening is the proprietor of Felton Road winery in Central Otago. Felton Road has been hailed as one of the best wineries in New Zealand, producing high quality Pinot Noirs and cult followers seek out their excellent Chardonnay and Riesling. Nigel is knowledgeable, passionate and highly entertaining. For more information on this dinner, please call Estee at +65 6464 9909.
TO PURCHASE OR ORDER – Call in at +65 6463 5296
The Cellar Door Deli and Wine Café
1 Harbourfront Walk, #01-108/109 VivoCity, Singapore 098585
(First Floor to reserve & pay. Door 'E' just after the Golden Village Entrance will
bring you into the complex directly opposite us on the first floor)
TO ORDER FOR HOME DELIVERY
Please Contact Audrey or Huda at 6464 9909
OR email to orders@thecellardoor.com.sg
The Cellar Door Office
192 Pandan Loop, #02-33, Pantech Business Hub
Singapore 128381. Tel: 6464 9909
Related Article: Parma Ham Mango Pear Salad with Felton Road Block 1 Riesling 2008
---