Central Otago Pinot Noir Celebration 2012
---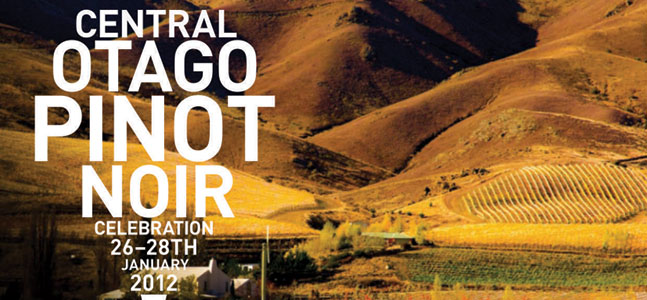 The Central Otago Pinot Noir Celebration has established itself as one of New Zealand's premier wine events and our vision is to bring together the wine world's leading writers and commentators, together with wine and food enthusiasts to experience Central Otago's best wine, cuisine and sights.
The Celebration is held over a two days with a comprehensive yet relaxing programme of events. It is our aim to celebrate Pinot Noir by taking advantage of the legendary hospitality that Central Otago winemakers provide. Of course the focus is on our most famous asset – Pinot Noir – and the tasting experiences coupled with a stunning cuisine programme will form the backbone of the event, with the location and wine personalities adding to the mix.
ESTABLISHED AND NEW PRODUCERS FROM ALL SUB-REGIONS OF CENTRAL OTAGO ARE PARTICIPATING IN THE 2012 CELEBRATION
Akarua
Amisfield Wine Company
Aurum Wines
Burn Cottage Vineyard
Carrick Winery
Ceres
Chard Farm
Coal Pit
Desert Heart
Doctors Flat
Domain Road Vineyard
Ellero
Felton Road
Georgetown Vineyard
Gibbston Valley
Grasshopper Rock
Hawkshead Vineyard
Maude Wines
Mount Edward
Mt Aspiring Wines
Mt Difficulty Wines
Mud House Wines
Northburn Station
Peregrine
Pisa Moorings Vineyard
Pisa Range Estate
Prophet's Rock
Quartz Reef
Rippon
Rockburn
Surveyor Thomson Wines
Terra Sancta
Three Miners Vineyard
Wild Earth Wines
Wooing Tree
2012 Pinot Noir Celebration Programme
Thursday 26th January
3.30 pm A Central Otago Masterclass – (Optional, $90 pp) – Millennium Hotel
5 – 7 pm Delegate Registration at Millennium Hotel
6.00 pm A Central Otago Welcome in Central Queenstown – An opportunity to mix and mingle with other delegates and Central Otago wineries in an informal way prior to the start of the Celebration. Irresistible Rieslings with pre dinner drinks and nibbles will whet the appetite. The rest of the evening is free for you to explore Queenstown's restaurants and nightlife.
Friday 27th January
7.30 – 8 am Delegate Registration Continues – Millennium Hotel
8.00 – 9.00 am Travel by coach to Cromwell for Grand Pinot Noir Tasting at "The Shed" – Northburn Station
9.00 am Official Central Otago Pinot Celebration opening by Chairperson – winemaker Jen Parr
9.15 – 12:30 pm Grand Tasting – A tasting of the Participating Central Otago Wineries hosted by Winemakers and Principals. Each winery will exhibit 2 Pinot Noirs – one from 2010 with a comparison against an older vintage.
1–3 pm Lunch in the Vines – Experience superb lunches combined with exquisite wine pairings hosted by Central Otago winemakers. Enjoy the surrounds of some of Central Otago's most picturesque wineries.
3 pm Depart Wineries for return to Queenstown
6.30 pm Meet buses at Millennium Hotel for departure to evening event
7 pm Winemakers Party – Delegates will enjoy a Gourmet BBQ under the summer stars. Experience an evening of casual cuisine, expressive wines in a relaxed resort setting with an opportunity for party goers to hit the dance floor.
Saturday 28th January
8.30 am Coffee & Sticky Buns – Millennium Hotel
9 am – 12 pm A Formal Tasting of Burgundies – Millennium Hotel
12:30 – 3 pm Lunches in Downtown Queenstown – Hosted by Central Otago winemakers. Enjoy the ambience and conviviality at a selection of Queenstown's most celebrated restaurants. A food and wine matched menu developed to satisfy die hard "foodies".
3 pm Free time
7 pm The Grand Dinner & The Celebration Pinot Noir Trust Charity Auction at the Skyline Restaurant. Queenstown's most dramatic restaurant nestled high up on the alpine skyline is the venue for our Grand Dinner, signalling the Celebration's finale. Delegates will enjoy an evening of superb dining prepared by renowned Central Otago and Christchurch chefs accompanied by a selection of the region's finest wines. The Dinner concludes with a Charitable Auction of a special cuvee of Central Otago Pinot Noir.
Until Late Continue the celebration in Queenstown with our own Central Street Party
ESSENTIAL REGISTRATION INFORMATION
To register for the Celebration, please complete the registration form at www.pinotcelebration.co.nz
Should application for registration exceed number available on an allocation system will be implemented. It is not intended to accept partial attendance at a discounted rate but a waiting list will operate on a strictly "space available" basis for notification of acceptance within two weeks of the event.
Organised for Central Otago Pinot Ltd by the 2012 Central Otago Pinot Noir Committee.
All correspondence to: Richard Broadhead, PO Box 245, Cromwell 9342, New Zealand.
---