Ata Rangi Wine Dinner
---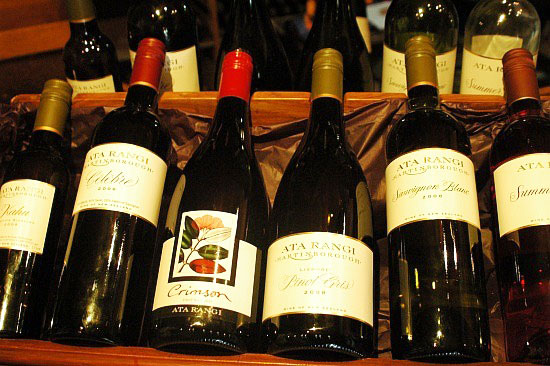 Some of you are familiar with Ata Rangi, all of you should be. One of the original wineries in Martinborough, set up in the 1980s, Ata Rangi has consistently been justifiably recognized as one of NZ's very finest producers.  This reputation has been driven by Ata Rangi's Pinot Noir.
The Estate Pinot Noir is amazingly complex but sacrifices nothing in terms of elegance and femininity in its power and length.  This incredibly high quality however is reflected across everything else they produce – from the lovely refreshing Summer Rose, their luscious Sauvignon Blanc, one of NZ's most beautiful Chardonnays, and the delightful juicy Pinot Noir – Crimson.
We are very privileged to welcome Helen Masters, the Chief Winemaker at Ata Rangi from 25th – 27th November. We have organized an intimate and extremely special dinner to reflect this at the Les Amis restaurant in the Botanic Gardens – Au Jardin. A beautiful setting and a superb menu to complement these wonderful wines, and get to know the ethos, passion and purpose behind them.
We have secured the downstairs bar room exclusively for our use, for two tables of 10 (or could be 1 table of 20). In addition, we have the option of seating a further 10 people upstairs in the balcony area in this lovely Black & White colonial building looking out at the treetops of the Gardens.  We do hope you'll be able to join us!
Pre-Dinner
2009 Ata Rangi Summer Rose
Dinner
2010 Ata Rangi Sauvignon Blanc
"Radish" Ravioli of Alaskan Crab & Avocado
2008 Ata Rangi Craighall Chardonnay
Crispy Blue-eyed Cod with Smoked Poultry Jus,
Sweetcorn & Black Trumpet Mushrooms
2008 Ata Rangi Pinot Noir
Roast Rack of Lamb, Vegetable Couscous
Rose Petal Crème Brulee, Apple Sorbet
Les Mignardises
Tea or Coffee
Date: 7:30pm, Thursday, 25 November 2010
Venue: Au Jardin By Les Amis, Botanical Garden
Price: SGD$275 per person (all inclusive)
For reservations please contact :
Estee or Audrey at +65 6464 9909 or +65 9819 9560
Those who are unable to make this very special occasion but would like an opportunity to meet Helen, please join us for Brunch at The Cellar Door Deli & Wine Café at VivoCity on Saturday 27th November, when Ata Rangi Summer Rose & Crimson will be available by the glass, and Ata Rangi Craighall Chardonnay & Pinot Noir will also be served by the bottle.  Bookings strongly recommended as our space is limited. Please specify your preference for indoor/outdoor, which we will endeavour to accommodate.
---
Helen Masters is now Ata Rangi's Head Winemaker, a very physical and hands-on role in our relatively small business. She also keeps a close eye on the vineyards, stays in touch with suppliers, keeps abreast of complex technical issues and drives Ata Rangi ISO14001 accredited environmental management system. Creative, intelligent and fun, Helen's a gifted winemaker with a finely tuned palate. She also has extraordinary stamina and tenacity. "I'm the youngest of twelve", she laughs "so I guess I was independent from a very young age, and honed quite a few survival skills!
She first worked for us straight out of school, in a 'gap year' in 1990. Then a keen 'cellar rat' and capable vineyard worker, she impressed from the start with her enthusiasm, energy and humour. Helen went on to study Food Technology at Massey University, graduating with Honours in 1995. A three year stint with Nestlé in production management followed before she returned to her original passion of winemaking.
Back to back vintages in Marlborough, Oregon, California and Central Otago followed before Helen settled back in Martinborough. She started back with Ata Rangi as a fully fledged winemaker in November 2003, a welcome return after 13 years. Helen is married to Ben Masters, a talented artist and interior architect. They have two adorable, lively children, Stella (6 on Christmas day) and Harvey, soon to be 4.
---