The Next Perfect Match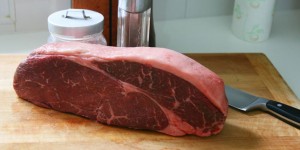 Slow Roasted Medium-Rare Rump of Wagyu Beef. Totally impressive at the table yet absolutely simple to cook!
There is nothing more enticing to a carnivore than a gargantuan piece of beef appearing at the table, juices oozing as it is carved in generous slices, the meat running from shades of cherry red in the centre to a caramelized roasted–brown outside.